Black and White with a Splash of Colour – iPod style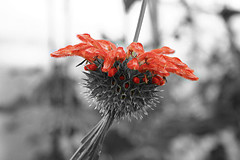 One of my most frequently commented on posts is the little tutorial Black and White with a Splash of Colour. Well, I've just discovered a new super easy way of achieving the technique for those of you with an iPod Touch or iPhone. A little, at the moment free, app called ColorCanvas which couldn't make it any simpler to create black and white photos with a little colour. I've been playing with it on my iPod Touch and it works pretty well. You simply import a photo from your library (or take one if you have an iPhone) and ColorCanvas will convert it to black and white automatically. Then wherever you touch on the screen turns back to colour. It takes a bit of practice to be accurate with the edges but you can vary the brush size and zoom in on the photo to make it easier. There's the option to vary the opacity too.
I've just downloaded a whole bunch of free photography apps for my iPod and I'll be trying them out on the 8 hours of train journeys I have this weekend so I'll let you know if any good ones turn up. If you have any favourite photography apps for the iPod Touch/iPhone let us know in the comments.