Cameras Ready for Some Summer Splashin'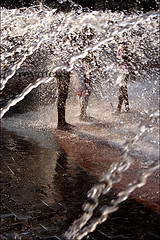 Now that summer is well and truly underway you may well be doing what we're doing over here; spending a lot of time at the lake, the outdoor swimming pools, and the water playgrounds. And while we're doing that my camera is getting a good, regular splashing. It's survived pretty well but a waterproof camera is really the way to go. The question is which one? Well, here's a round-up of some waterproof digital camera reviews.
Cameras for Going Off the Deep End at NYTimes.com reviews 5 waterproof cameras and ranks them from worst to best.
Waterproof Camera Group Test at Digital Photography Review looks at 7 waterproof cameras and has a handy little table to compare features.
Waterproof Camera Comparison Review at Digital Camera HQ compares 4 waterproof cameras and has full reviews for 3 of them.
Fun in the Sun with Digital: Waterproof/Tough Camera Round-up at Imaging Resource has in-depth reviews for 7 digital cameras.
If you have a waterproof digital camera let us know in the comments what you think of it!