A punch in the face and the Casio EX-F1 high-speed camera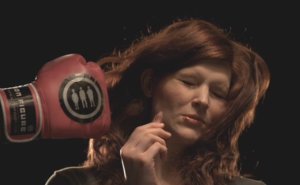 Saw this amazing new-to-me video of people being punched in the face this morning (via Waxy). (More footage here.)
High-speed photography, to me, is amazing. Typically we photographers deal in stills but the line between photography and video is blurring. Manufacturers have been adding video capability to still cameras and vice versa for a long time. Photographers have been known to spend ungodly amounts of time putting together video from still frames. And very slow video like the above has a very photographic feel.
If you fancy trying your hand at high-speed photography, Casio may have just the (affordable) ticket. Their recently released (March 2008) Casio EX-F1 is a 6.1 megapixel camera capable of shooting at up to 1200 frames per second. Play that back at normal video speeds (24 fps) and you've got home-made slow-mo movies for around $1,000.
The EX-F1 is also able to capture full-resolution stills in 60 frame-per-second bursts. And they provide an innovative mode that allows the camera to capture shots you missed. In this mode, holding down the shutter half-way continuously captures 60 frames and then discards them each second until you press the shutter fully. This is perfect for capturing unpredictable action. Now you can go back in time 60 seconds and pick the right moment as the keeper.
It's not widely available yet (you can get it from B&H but you have to make a phone order). If anyone out there has got one of these babies, let us know what you think. I'm especially interested in thoughts about the 60fps capability for capturing action.