Fascinating video of new photo technology on the horizon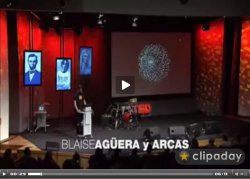 I've just watched an amazing video demonstration of two new digital media technologies codenamed Photosynth and Seadragon (both recently acquired by Microsoft). Seadragon is a slick and and powerful viewing system for what the presenter calls "multi-scale mediums". That is, viewing media with both large and small details like a newspaper (headlines vs. fine print) or photographs (entire galleries vs. details of a single photo).
Photosynth is much more compelling as it can aggregate images of a single subject from various sources (all photos on Flickr tagged "Notre Dame" in the example) and combine them into a new, richer view of the environment that is more valuable than the sum of the individual photos separately. The description doesn't do it justice. You really need to watch the video to understand what is going on here.
The presenter concludes by talking about how we now have the technology to create "immensely rich virtual models of every interesting part of the earth collected not just from overhead flights and from satellite images and so on but from the collective memory." Simply amazing.