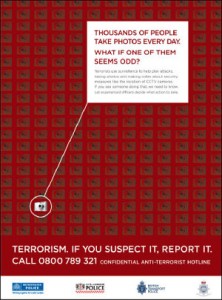 "There's a great deal of paranoia around but the police are on alert for anything that vaguely resembles terrorism. It's difficult because the more professional a photographer, paradoxically, the more likely they are to be stopped or questioned. If people were using photos for terrorism purposes they would be using the smallest camera possible." Read on at BBC News
In other anti-photographer news: Stadium Visitor Told To Hit Delete Button.
Digital Photography School explains why you should set up a photo blog.
Photographer Rob Goldman organized a photo exhibition by and about the homeless while volunteering at a shelter. "I don't propose to have any answers; that's the beauty of art," Goldman says. But perhaps the show, he adds, will "force people to look at their own questions and see if the solution can begin." Read more and watch the video at Newsday.com