Inky's Giga Bundle: $4,816 Worth Premium-Quality Resources for Only $69
Do you remember InkyDeals? We tell you about them every time they have some amazing design and photography deal worth sharing.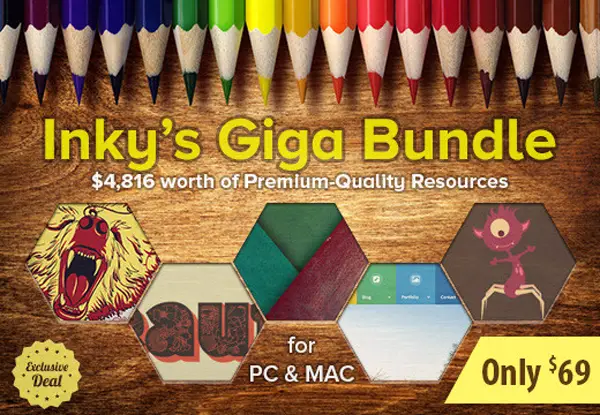 This time, InkyDeals came up with the Giga Bundle that includes vector illustrations, t-shirt designs, high-quality textures, Photoshop brushes, video tutorial for creating an old retro-style countdown timer, and 9 responsive premium Bootstrap 3 templates.
Awesome Deal For Photographers
As photographers are creatives who need various design resources to use on their sites and blogs, this deal is right for you! The vector pack you'll find in the bundle includes floral, letters, school, nature, stamps, business, infographic, food, Christmas, Halloween, beauty, and many many more other Illustrator patterns that can be used anywhere you want.
Photoshop brushes and textures may serve you as great post-processing features. Use vector illustrations as postcards. And on the base of 9 high-quality responsive templates, you may build your portfolio website. That's the whole bunch of useful resources for a ridiculously low price!
Since InkyDeals are our friends, they're offering an exclusive 30% discount coupon GIGA30 for Photodoto readers! That means you can buy this bundle even cheaper, for only for $49.
What You Get
The Giga Bundle of premium high-quality resources includes the following items:
121 Vector Packs worth $1,815
20 T-shirt Designs worth $300
15 Photoshop Brushes Packs worth $225
15 Super High-Res Texture Packs worth $225
Lots of Premium Addons worth $150
9 Fully Responsive Bootstrap 3 Templates worth $86
A Very Cool Video Tutorial worth $15
500 Top-Quality Vector Illustrations worth $2,000
You can play around with all the things included here to get even more advantages than we suggested!
Why This Giga Bundle?
You may try out some resources from this InkyDeals bundle to ensure that the deal is worth its money! Just download the sample of the resources by clicking the button below.


If you're not convinced yet, I'd like to bring to your attention that all these resources from the InkyDeals bundle come with an extended royalty licence, which means you're allowed to use these items for commercial and even merchandise purposes.
If it's not enough for you, InkyDeals also offers you a 100% money-back guarantee! In other words, you may get your money back without questions and at full size!

Don't Think Twice
After properly learning what's inside the bundle, you'd be totally insane not to get it for your creative needs! I'm kidding, of course. It's only up to you, but don't think twice, as this deal expires really soon!
And don't forget about the exclusive discount coupon for Photodoto readers and use discount code GIGA30 at the checkout window. We'll keep you informed about the latest awesome deals from InkyDeals! So, if you liked this post, feel free to spread it through the social media world and click all the sharing buttons ;)