Hurry Up! Premium Stock Photos For Ultra-low Prices At MightyDeals.com
Stock photos are professional images of ordinary locations, events, nature, landmarks and people. They're purchased as well as sold on a royalty-free agreement, and what makes them so useful is, of course, the fact that they can be constantly used for commercial-design applications. The photographer who snapped the stock photos owns them, but the person who purchased them gets to enjoy some limited use of them.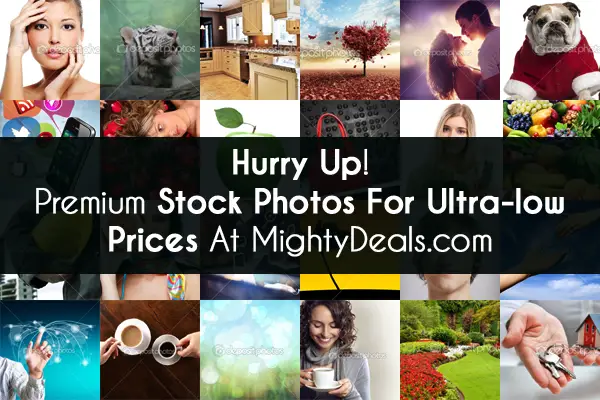 We know how useful stock photos can be, especially if you're a designer or just your ordinary blogger. That's why we want to tell you all about a super-hot deal that's going on right this second at MightyDeals.com. Here's the long and short of it: You're going to save 90% on their stock photos. No, that's not some sadistic typo—they're really giving you a monstrous discount of 90% when you buy their stock photos. However, as with any unbelievable deal, it's time-sensitive. You've got just a few days left to take advantage of it.
Let's take a closer look at this once-in-a-lifetime chance that MightyDeals.com will be bringing to you for only the next few days.
Courtesy of Depositphotos
MightyDeals.com isn't named "Mighty Deals" for nothing, but this time around, they've got help from Depositphotos. This website comes complete with one of the absolute biggest stock-photo libraries on the entire Internet! For just a limited time, you have the one-time chance to buy 100 or 200 pictures of your choice for a discount of 90%. What?! That's simply unheard of, but it's true, thanks to Mighty Deals.com's knack for finding the most amazing deals and then rewarding their lovely customers and site visitors with them. Just click the following link for this can't-miss deal:
http://www.mightydeals.com/deal/depositphotos.html?ref=depositphotodoto
Once you do, you'll be taken by what a truly spectacular deal this is. It'll make all of your wildest, stock-photography dreams come true. You see, not only do you receive a mind-blowing, massive library to browse, but you also have the power to choose any size image that you want.
This also includes the highly sought-after and popular XXL and XXXL sizes. Hey, you didn't think that MightyDeals.com would offer you anything less advantageous, did you?
Highlights of This Great Deal
Sometimes, deals this great can overwhelm you until your mind literally starts to get blown by the sheer awesomeness of it all. It's true! In these cases, you won't be able to truly appreciate just how favorable a deal like this is, so we're just going to list the highlights of the deal in bullet points:
You know that it can be very expensive to buy stock photos, especially if your needs are regular. Much of the time, you're spending between $5 and $10…just like that! That's not the case with this powerful deal from MightyDeals.com, where you'll be paying less than a buck, no matter what size of image you pick!
So Many Pictures You Won't Believe It
You can literally spend several lifetimes sifting through the humongous library of pictures on Depositphotos' website. That's because you'll have access to greater than 17 million pictures, videos and even vector images. The odds against you finding something exactly to your liking are so low that it's impossible you won't find just what you're looking for!
A Plethora of Different Categories
A deal that brings you greater than 17 million images has to also offer extreme variety—and it does! You get the choice to browse many different categories that include today's most popular trends and topics. They include animals, abstract, business, people, nature, political, religious, food and drink and sports, to name just a few.
There's nothing worse than a stock-photography site that limits you in any way. With this deal, you won't run into any limitations on how many pictures you can download a day, thus giving you total freedom.
This means that you can be highly greedy and download 100 or even 200 in one day! Of course, if you want to save your downloading opportunities for a more special moment, then you have a full year to browse and download your pictures.
What's the Deal With MightyDeals.com?
If you haven't heard of MightyDeals.com before, then you're killing us! Really. You stand to lose out on so many incredible offers and promotions that you should feel sad. Well, not really sad, per se, but you definitely are missing out by not visiting MightyDeals.com regularly.
The website is a bona fide daily-deals site that specializes in showering its customers and site visitors with the latest and greatest deals for web and creative professionals. Overall, its customers can always expect to save anywhere between a stunning 50% to 90% off of web development lessons, Mac toolkits, design tools and even professional templates.
Wanna know how MightyDeals.com is able to do all this for you? It comes down to simple negotiations. Routinely, its staff negotiates with the very best creative providers in the industry in order to offer customers the absolute best prices on both the programming and design tools they value the most.
MightyDeals.com Knows Stock Photos
So, just to sum up one more time: Be sure to swing by this link to get one of the greatest, money-saving deals you'll ever find on the Internet, this year, next year or any year! If you need some stock photos, then MightyDeals.com has the deal of a lifetime just waiting for you, so you better not pass up this opportunity. Remember, while the website has awesome deals all the time, this particular deal only runs for a very limited time. Act fast!
Get access to a veritable treasure trove of images—more than 17 million in total!—and download 100 or 200 of them at killer savings of 90% off. You have to be crazy not to take advantage of a deal like this. After all, what's not to like about it? You get so much value for so little money that you have to pay. So head there now—time's a wasting!