New Flip Book in Flash: a Universal Functionality
Hey guys,
We are here again with a new portion of creative for you. Today we are presenting a new universal Flip book solution for various online projects: magazines, books, product presentations, brochures, catalogs, and so on. Besides, if you are a photographer looking for an unusual, stylish and at the same time highly functional design for your own or your studio's photo portfolio, you've found one of the most curious solutions here:)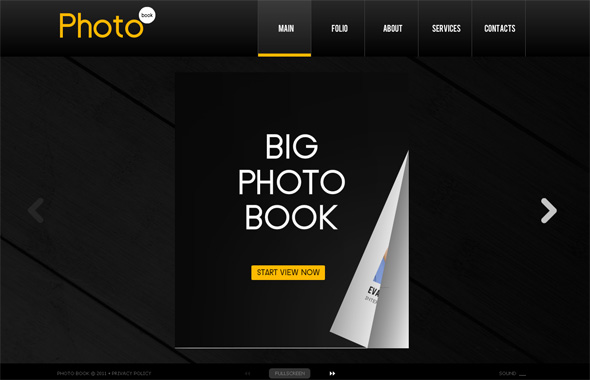 This stylish solution will definitely emphasize your or your project's individuality and make a solid impression on the website visitors. Dark colors, creative textures and simple yet catchy fonts are perfectly combined in this neat design.
Each section of the website is performed as a separate flip book that is navigated with interactive arrow buttons. Also, you can turn over the book's pages by clicking on the page's corner or dragging it with a mouse.
The interactive drop down menu allows you to easily navigate the website and browse through the sections. As soon as the template is yours, you can easily create as many sections and sub-sections as you need.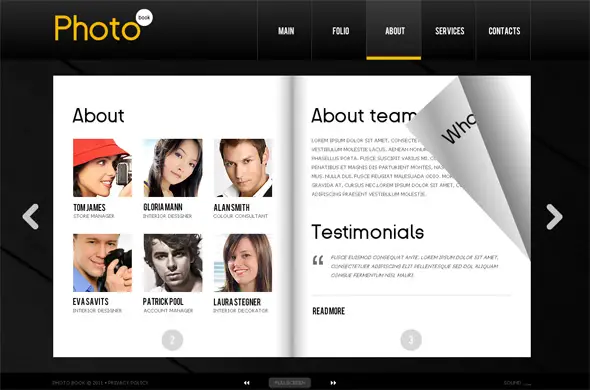 The powerful control panel allows you to customize the template without getting into any coding. Due to the mostly intuitive interface, the website editing turns into a true pleasure. You can easily add your own logo, change the titles and other text content, embed images and media, add visual effects, and much more.
The powerful Moto CMS integrated into the template opens the widest opportunities to the user. It couldn't be any easier to create pages, add buttons, change the background as well as make more complicated (but in fact, easy) modifications like embedding a new slot or font, etc.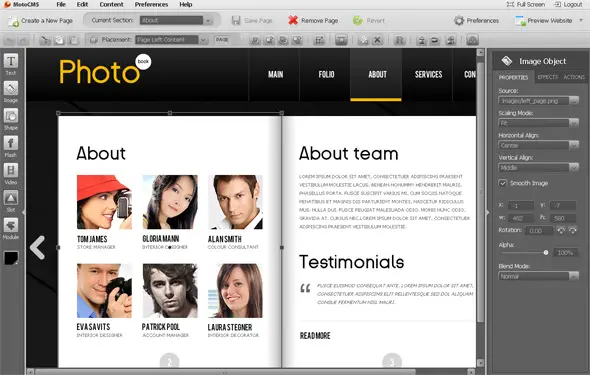 Within the control panel, you will find the following modules and slots:
Contact Forms (Contact Form and Advanced Contact Form)
Galleries (Media Gallery Preview, Media Gallery Lightbox)
General (Rich Content Block, HTML Widget)
Google Maps Widget
Media Player Widget
Main Menu
Music Player Widget
News Widget
RSS Reader Widget
Simple Button
Read More Slot
Share Button Slot
Social Network Icon
GalleryBook Widget
Shape Slot
Background Image Slot
Close Button
Start Button Slot
Title Slot
Small Book Control Button Slot
Book Control Button Slot
Page Image Slot
The Flash CMS template with page flip effect is a complete website that can be easily customized and edited. To evaluate the opportunities of the control panel, you can try the template's Demo.