Pro Photo Rental lens rentals (with discount for Photodoto readers)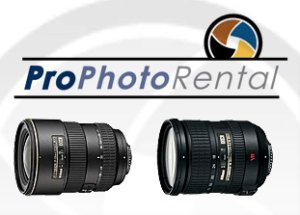 Jared at Pro Photo Rental (prophotorental.com) just sent me some information about their rental business located in Boulder, Colorado. I've used a couple of these services personally (read reviews of Rentglass and Ziplens) and we also have a handy roundup of online rental services.
Pro Photo Rental—offering Canon, Nikon, and Olympus gear—distinguishes itself from the competition with the following features:
They are one of the few services that takes reservations and the only one that I know of that has an online reservation system.
You can rent gear for exactly as long as you need it with a 4-day minimum. Everyone else seems to rent in 1-week increments.
Offer a selection of Olympus lenses and gear (including an E-3 body).
They offer a good variety of lenses but also rent bodies and speedlights.
Local pickup in the Denver metro area.
Pro Photo Rental has offered Photodoto readers a 15% discount off of any order over $40 (good through July 2008). Just enter code S-Photodoto08 during checkout. If you take them up on their offer, let us know what you thought of the service in the comments.