I've just pushed out a new layout and design for the site that I think you're going to like. It's much more than just a cosmetic change. (You RSS readers especially should definitely click through and check it out.)
The entire site has been reorganized to make it easier to find the content you are looking for and to highlight the great content we've always had but you may not have known about. For starters, the home page now showcases a few featured articles. These are the "meat" of Photodoto. Highlighting them like this prevents them from getting lost among less meaty posts (news, announcements, etc.).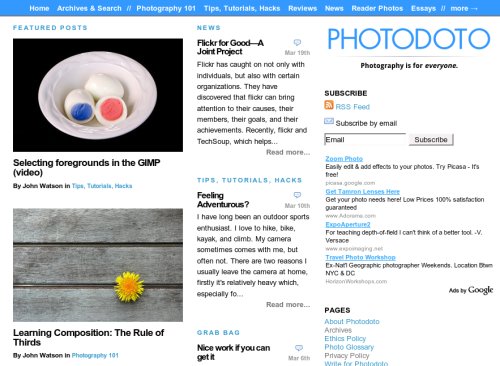 Immediately below the featured posts is a new section of "Top Posts." These are some of the most popular posts we've published. The center column contains regular blog posts. You'll also notice that each post is categorized. You can even click on any category title to see all of the posts within that category. All of our content has been broken down into 10 categories but the major ones are listed at the top of every page: Photography 101; Tips, Tutorials, Hacks; Reviews; News; Reader Photos; and Essays.
Clicking Photography 101, for example, brings you to a page where you can begin reading through all of our instructional content. (Which I'm pretty proud of, by the way.) The archive page has also been completely reorganized and stuffed with useful links. You can now browse our archives by date, category, what's popular, tags, or search.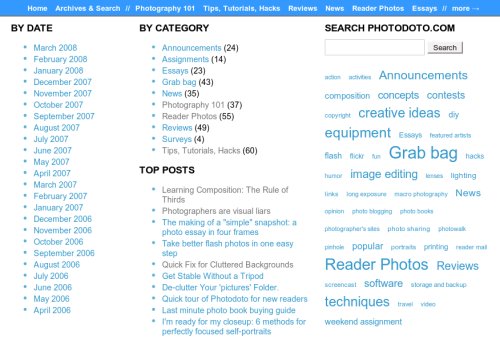 The right side of the page is left over for subscription options, miscellaneous pages, the lens database, links, and advertisements.
I hope these changes help you get more out of Photodoto.com. I'll probably be making minor tweaks and adjustments over the next couple of days. Please let me know if you're experiencing any problems using the site or have any suggestions.