The amazing Bogen Super Clamp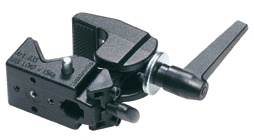 The Bogen Super Clamp (Bogen Imaging) is a neat little piece of hardware. This simple looking device can attach itself solidly to almost any object with a width between 0.5 and 2.1 inches (1.3-5.3 cm). That includes shelves, tripod legs, light stands, doors, poles, fences, tree branches—or in my case, the neck of my daughter's two-wheeled scooter. That's right, Photodoto's new unofficial slogan is, "Doing nutty stuff with expensive camera equipment so you don't have to."
The Super Clamp I ordered came with a stud with a 1/4″-20 mounting screw that will hold most lighting brackets and an accessory wedge for clamping onto flat surfaces. The bracket I use on my light stand for holding a hot shoe flash and umbrella fits nicely. The entire Super Clamp system includes a number of accessories from ball heads to extension arms. No matter where you want to put a camera or light, there's a combination of Super Clamp items that will let you do it.
Risking life and limb, the first thing I attached the Super Clamp to was the neck of my daughter's two-wheeled scooter. I attached the camera directly to the 1/4″-20 mounting screw and aimed it at my feet. I set the shutter speed for 1/40s because I wanted to capture motion blur and then adjusted the aperture for a correct exposure. I used the camera timer so that I could keep both hands on the scooter. My process was to start the timer, scoot, stop and review, repeat. I did that for as long as my back could take stooping over the scooter to review images.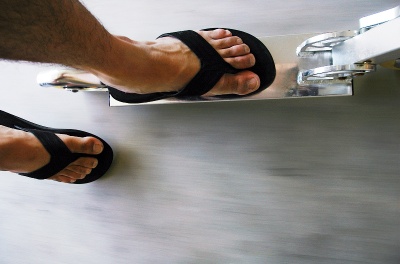 Through it all, the Super Clamp held the camera steady. It showed no signs of slipping or dropping the camera. Honest, you'll find no eBay auctions from me for "slightly dinged" equipment! For only about $28 with the included stud, the Super Clamp is an extremely compact and viable alternative to a traditional light stand. It's a really neat little device and I'll definitely be using it in the future.