Lesson 3: Camera Settings You Just Have to Know!
When you're at the fateful moment of trying to make up your mind with regard to what camera to buy, you're probably going nuts deciding among all of the features digital cameras come with these days! How are you ever supposed to know what features are useful and highly desirable from those that just suck and are totally inessential gimmicks? Fear no more…because we at Photodoto have compiled an essential list of camera features that you just have to know about, so that you can make an educated purchase.
We feel your pain if you're new to the camera world or are just buying a new camera after years of letting your old one just gather dust by sitting on the shelf. So many things have changed over the years…so how can you know what features you want and need and which ones are just meaningless? We've done all the homework for you! Read on to determine the camera features that you absolutely, positively have to have in your digital camera.
Back-Illuminated CMOS Sensor
A back-illuminated what? We don't blame you if you can't repeat the name of this feature five times fast, but it's definitely worth having on your camera. Your digital camera works this way: It transforms the light it captures into its digital signal. Old CMOS sensors of years gone by used to have wiring on the front that then sent the signals from every small pixel. You see, it was these pixels that captured light going into the camera's lens.
On a back-illuminated CMOS sensor, on the other hand, this wiring has been shifted from the front to the back. The result is that light sensitivity is greater because said pixels obtain a lot more light. A major camera maker like Sony has been utilizing its "Exmor R BI CMOS sensor" for the last 4 years. Even the most popular smartphone around—the iPhone—is using a back-illuminated CMOS sensor!
This feature is extremely vital since BI CMOS helps smaller cameras that can't on their own accommodate bigger sensors because of form constraints. Besides that, the trend is solidly that more cameras will have BI CMOS sensors in the near future!
Hybrid Autofocus
Hybrid autofocus is a combination of contrast AF as well as phase-detection AF. Classic phase-detection AF, found in so many DSLRs, used to just divide the light into two distinct images. Then, it would compare the images and then inform the camera what was in focus and what was not. Though this process occurs quite fast, it's nowhere near as on-point as contrast AF! Additionally, phase-detection AF also failed to function in Live View mode.
However, contrast AF, found in both mirrorless and compact cameras, detects the contrast straight from the sensor. This means it's a lot more exact than phase-detection. As a bonus, it also works in live-view mode! Of course, it's slower than phase-detection AF, which is why a combination (read: hybrid AF) of these two permits for much faster autofocusing.
In short, yes! You definitely want hybrid autofocus on your camera these days! You should dislike slow autofocus since it can take the joy out of taking pictures. Anything you can do to speed up how your camera works is well worth it.
Touchscreen
This is a trend that's sure to only get more and more common with digital cameras. Essentially, camera companies are taking a page out of the playbook of smartphones and incorporating touchscreen functionality into the LCD. As opposed to navigating the menus via physical buttons, you can just pick your items by pressing on your screen! You the consumer benefit since this means a bigger LCD screen because companies can now streamline the quantity of buttons on a camera.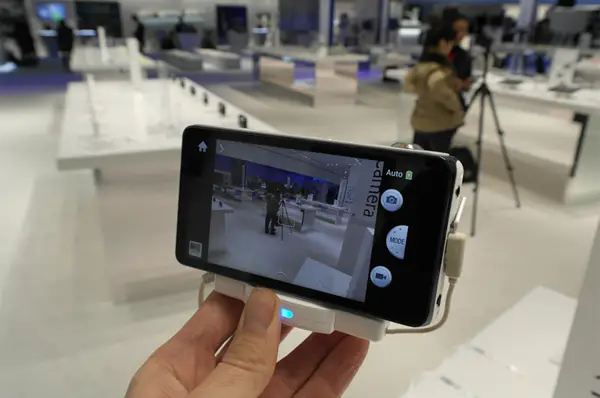 The camera touchscreen: It's where the future is headed. Photo by Samsung USA
Right now, this functionality on cameras still has some things to work out, but it's showing great promise in the future. With the help of great software, touchscreen functionality will be big on cameras. Touchscreen functionality is shaping up to be easy to use and practical, but we totally understand that some old-school purists still prefer to have physical buttons to select items from the menu!
Live View and Manual Focusing
We hear the term "Live View" thrown around so much, but what exactly is it? Live View is a reference to the live preview feature that DSLR cameras only started using in the last few years. This feature empowers you to use your manual focusing abilities much smoother than ever. In essence, Live View lets you utilize your camera's display screen as a viewfinder!
To take full advantage of this great feature, you have to first turn off autofocus, naturally. Then, activate Live View and digitally zoom in to 10x simply by pressing down on the magnifying-glass button two times.
Highly practical for times when you're shooting still life using a tripod, it's not just limited to that situation, though, which is the great strength of Live View. Essentially, you can use Live View in any other situation where you're faced with a very shallow depth of field, yet you wish to be highly choosy with your subject as you're focusing.
The Benefit of Mirror Lockup
Definitely purchase a camera with mirror lockup—you'll regret it if you don't. Have you ever heard of camera shake? Even if you haven't, you've probably already observed it on the outcome of your picture-taking, and it is nasty as can be!
You see, when you go to snap a picture, your camera's mirror quickly moves up to allow light to get through the sensor, but this results in a subtle shake of the entire camera body. Luckily, most of the time, this subtle shaking won't cause anything noticeable to occur.
However, the problems begin to take root when you require a really slow exposure time of approximately one-half of a second. In these very specific circumstances, you can look to Mirror Lockup as your salvation! This feature can be a massive help, and it doesn't even matter if you're snapping away with a tripod or the camera in your hands.
Ideally, you should have the mirror up prior to snapping a picture. This is done to protect your camera from "shivering" at the time of exposure. You can do this in one of two ways: Just shoot in Live View, or shoot with the mirror up.
To activate the mirror lockup feature, just go to the Custom Functions (C.Fn) menu and turn on the feature! It'll be located under the autofocus/drive submenu. You need to shoot in a certain way with this feature on.
1. Frame your picture, focus and then push down on the shutter release button all the way in order to bring up the mirror.
2. Press down the release button all the way again to snap a picture.
3.  Your picture will be exposed, and the mirror will go down.
Just make sure that you press the shutter release button very softly. If you wish, you can even use a remote control to reduce the shake to almost nothing!
Needless to say, mirror lockup is definitely a feature you'll want on your camera because of the practical benefit it provides.
Think You Could Use Even More Camera Advice?
If you think you could use even more camera advice than these awesome tips we just shared with you, we can offer you something even better! Notice how all of our tips, particularly the last two, really took the hassle out of figuring out camera settings? Maybe you've noticed…but camera manuals are really impractical, boring and take too long to read. Then, you're not even assured that you'll understand everything you read or that what you read is explained simply enough to be intelligible!
If you're sick and tired of camera manuals that take too long to read and are boring as can be, we can help. May we suggest Photodoto's "From Newbie to a Pro" ebook series? Our extremely helpful guides are jam-packed with everything you need to know about the 10 essential camera settings for Canon and Nikon. So throw away your unwieldy camera manual. You won't need that anymore thanks to our primer!
The Live View and mirror lockup explanations were taken right out of our "From Newbie to a Pro" ebooks. So if you enjoyed those two tips, chances are great that you'll absolutely love our entire ebook! On top of those two tips, you'll get eight more highly valuable tips about the fundamental camera settings you'll encounter. Visit Photodoto library to purchase your Canon guide or Nikon guide without delay.
Enjoyed this lesson? Sign up for entire course
FREE EMAIL COURSE

7 lessons

 to start
making profit!