Get a free lens rental from BorrowLenses.com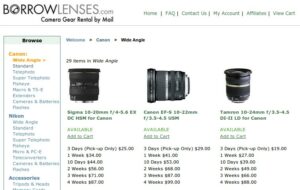 Our friends at BorrowLenses.com have offered to give away another free lens rental to a lucky Photodoto reader. It's been a little over a year since we did our last lens rental giveaway. Last year's winner rented an 85mm f/1.8 and loved it.

Lens rentals are a great way to try out lenses before you buy or just to get great glass for the occasional need. BorrowLenses prices and service are top notch. If you'd like to try it out for free, here's all you have to do:
Leave a comment describing which lens you would like to rent and why you want to rent it. Leave a valid email address so that we can contact you if you win (your email address will remain private and is used for no other purpose).
That's it! (Except for a few conditions, below.) The comments will remain open until Tuesday November 17 at midnight. After that, BorrowLenses.com will choose a winner and we'll announce it here. Good luck! And a big thank you to BorrowLenses.com for sponsoring this giveaway.
Conditions of entry:
You must be in the U.S. to enter.
The winner will need to place an order online with a valid credit card number to receive the rental. The card will not be charged but is required to ensure that the lens is returned. BorrowLenses.com is a reputable business but if you don't feel comfortable with this condition please don't enter.
The offer excludes super telephoto lenses and camera bodies.