Get sunset and sunrise times for any location on Earth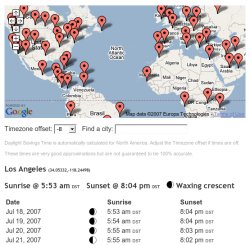 Photographers know that the best light of the day usually happens at sunrise and sunset. I'm happy to announce the availability of a helpful utility that lets you use a map to find your location on the Earth and then instantly creates a table of sunset and sunrise times and moon phases.
Choose one of the dozens of pre-set locations or create your own custom location (with precision right down to the street level, if you like). The last location you selected on the map is automatically restored the next time you visit the page making it extremely easy to get up-to-date information.