130 Amazing Gifts for Photographers Handpicked from All Over the Web
The holiday season is around the corner and gift hunting is approaching us quickly. As does the art of photography, the art of giving needs inspiration. In our holiday gift guide you can find all kinds of gift ideas for every type of photographer.
Even if the recipient is not a photographer, one of these gifts will easily make them want to become one!
In this collection of 130 creative gifts for photographers, you'll find everything from instant cameras and portable lighting kits to cute camera mugs, smart chargers, and a whole pile of useful photography accessories. Whether you're looking to please a special photographer in your life or you want to reward yourself for a great year, here you'll find something to do the job perfectly.
The list is constantly updated! The latest version includes more photo gear carriers, the newest technologies, smartphone accessories, and photography books from the world's most respected brands. Scroll down and enjoy!
Gift shopping tip:  On some sites you can save products in your shopping cart for later, be able to see inventory and price updates and get notifications in your email.
1. Tamrac Anvil Photography Gear Backpack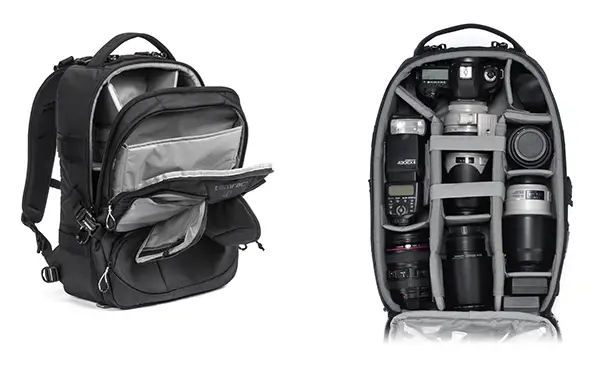 Tamrac is known for making gear carriers tailored to the needs of outdoors photographers. However, their new Anvil backpack series looks stylish enough for casual use as well.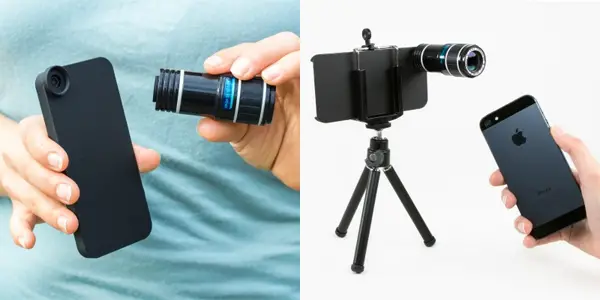 This huge telephoto lens makes your phone look funny, but it gives 8x-12x zoom to your phone camera.
3. Lomo'Instant White Edition Camera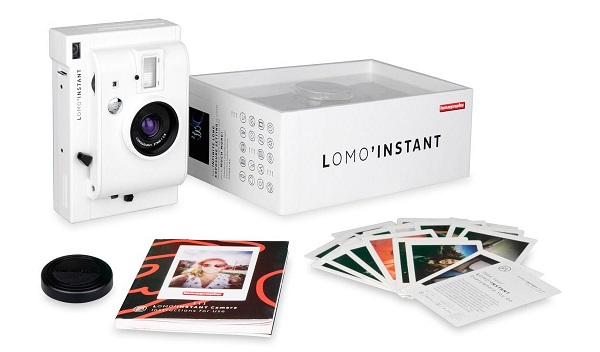 3 shooting modes, ability to shoot multiple and long exposures, flash on auto / manual mode, and sexy design… This camera will make any lomography fan do a little happy dance when they receive it as a Christmas gift.
4. Camera Shoulder Bag With Waterproof Cover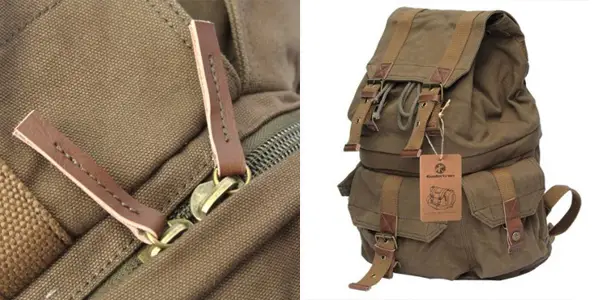 This great waterproof bag is the best solution for long trips or walking in the rain. It will keep your beloved camera safe, secure and dry, even if the rain suddenly starts.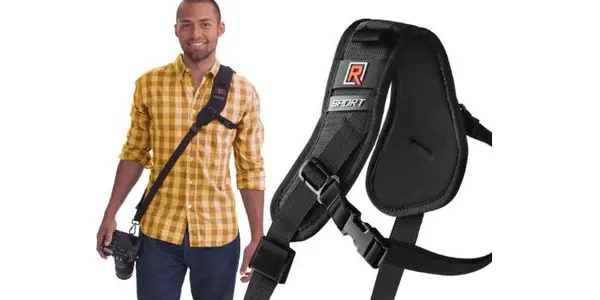 This comfortable, heavy-duty camera strap has a special metal clip to keep your equipment safe on the go.
6. The Bolt – Wall Charger & Backup Battery in One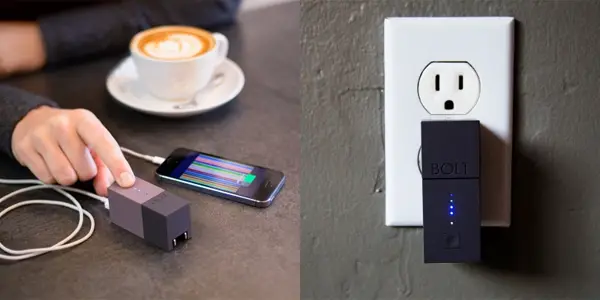 This is a perfect choice for travelers: If there is no socket available nearby, charge your phone with a battery, but if there is a socket, then use this device as a regular charger.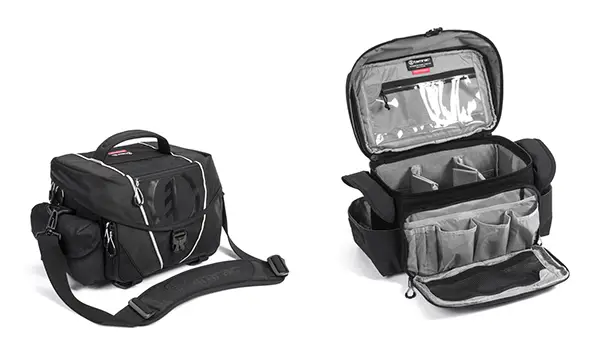 Stratus is the latest version of Tamrac's iconic System and System Pro camera bag series. Retaining the high standard, it's enough to satisfy the requirements of a modern pro photographer.
8. Floating Hand Grip for GoPro HERO Cameras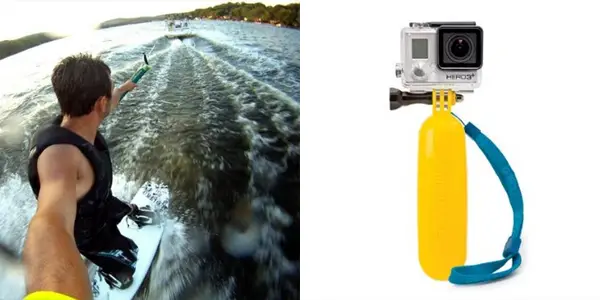 The first of this sort of GoPro floating accessory. It's made to take pictures or videos for extreme sports enthusiasts. It will keep your camera safe if its dropped in the water.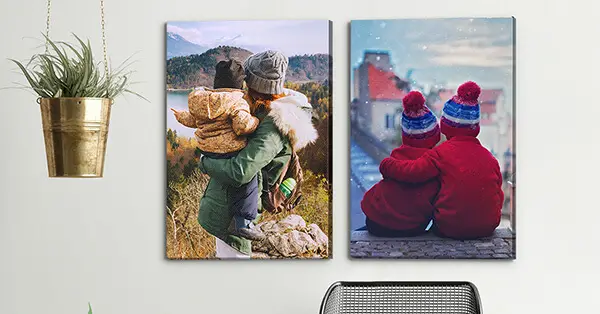 Customized canvas prints are currently trending to being one of the best size and value personalized gift to give to your loved ones. Pick your favorite picture by your special photographer today and show them that their work can create an entire atmosphere whether it is on prints to canvases, personal photos, or creative images, there are endless ways to make an impact in the living room, personal office, or bedroom.
10. Limited Edition Holga 135BC Plastic 35mm Camera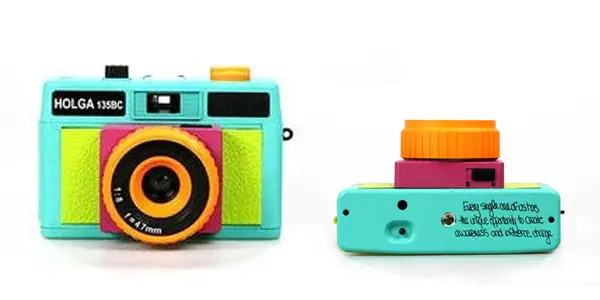 Discover a new, funny way to take pictures with this vivid, cheerful Holga camera.
11. Tamrac Goblin Protection Accessories for Photo Gear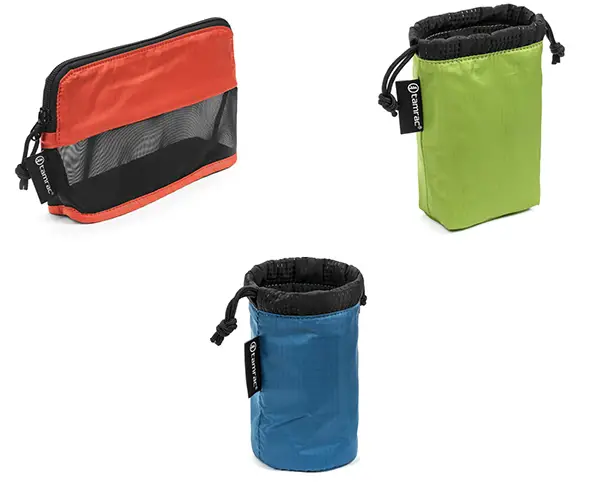 Tamrac lens cases, body pouches, and accessory holders are focused on easy-to-access protection. Whether it's a travel, wedding, or street photographer you're buying a gift for, this stuff will be appreciated for sure.
12. ADC Bailey Camera Bag Insert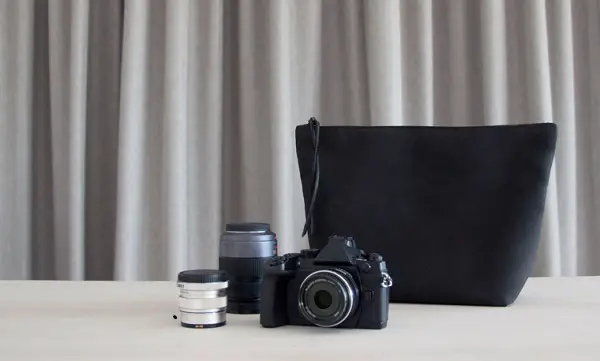 Made of water-resistant, lightweight canvas with a plush faux suede interior and padding box, the Bailey camera insert pouch is a great gift for her. It fits into any regular-sized handbag, making it easy for a stylish photographer to organize and carry a camera and two lenses without compromising on style.
13. Portable External Hard Drive USB 3.0 with Auto and Cloud Backup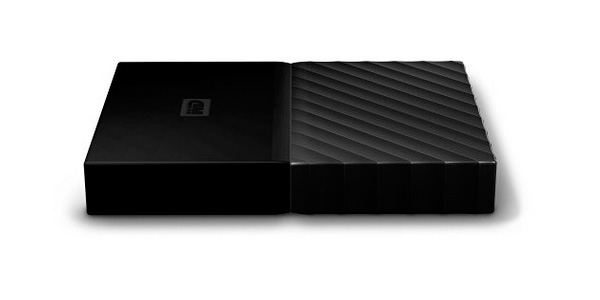 Everyone backs up their pictures, do they not? Available in many colors.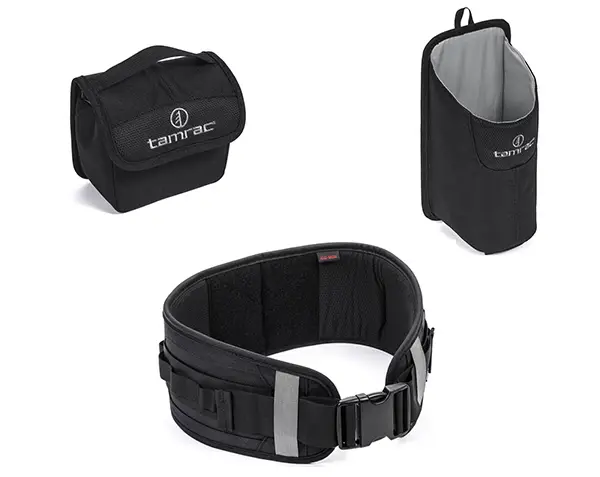 Fully customizable and durable, this removable belt system is a photographer's great helper in organizing and carrying countless gear items both in the city and the great outdoors.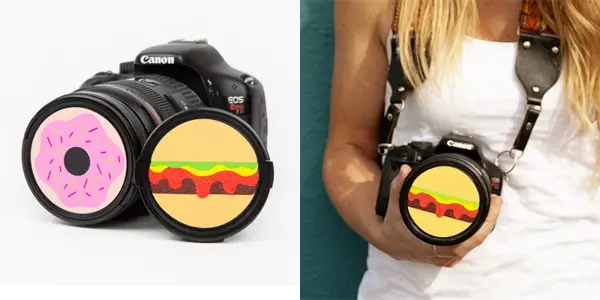 Give your camera lens a boost with these awesome, tasty snack caps!
16. Widow Spider Camera Holster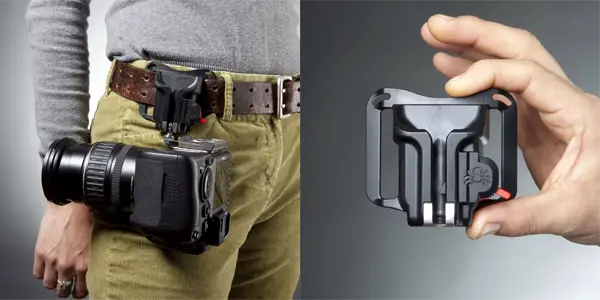 Getting tired of neck straps that hurt your neck and back all the time? Here is an alternative option for you – the camera holster!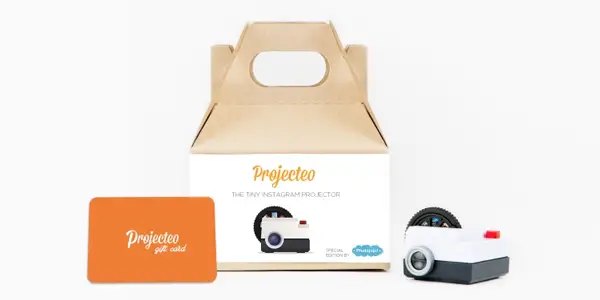 This cute, small projector shows photos from your own Instagram stream. Invite friends, and make a terrific slide show.
18. Custom SLR C-Loop Camera Strap Mount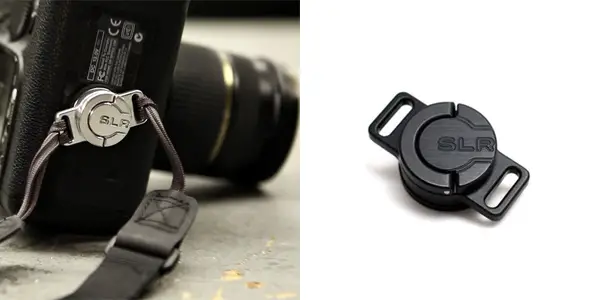 A top-mounted strap is always getting tangled and getting in the way of photos, right? By replacing the mounting position to the camera bottom and integrating a 360-degree swivel, this C-Loop stays secure and tight and prevents strap problems.
19. Tamrac Derechoe Camera Bag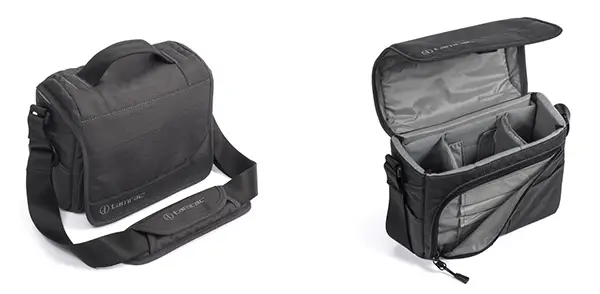 This casual day shooting bag does an excellent job combining a lot of well-organized space for carrying your gear with a modern urban style.
20. Shutter Button Upgrade, 2 Pack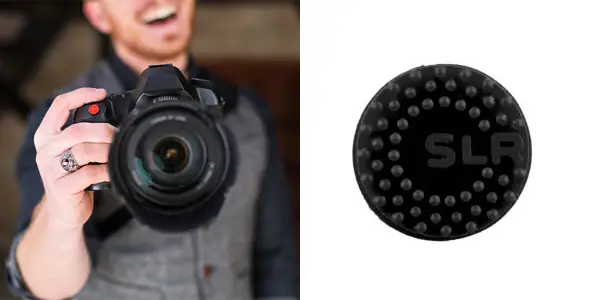 Take pictures with more control and comfort using this tiny shutter button.
21. Selfie Remote for iPhone and Android Phones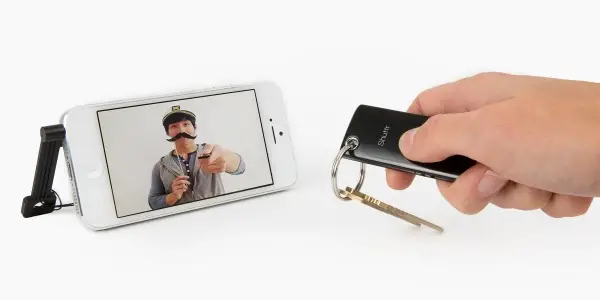 A lovely device for all self-portrait lovers! With this shutter remote, you can take pictures of yourself up to 30 feet away. From now on, a photographer is able to be present in group photos!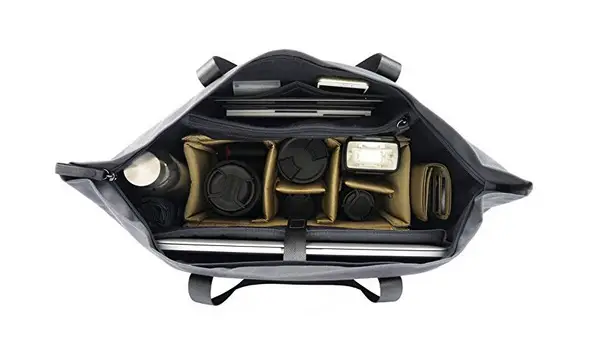 The Nadine travel camera bag is designed for double duty as an everyday purse and practical camera bag, with a fully removable padding. Perfect gift for a special photographer in your life!
23. Tamrac Corona Camera Backpack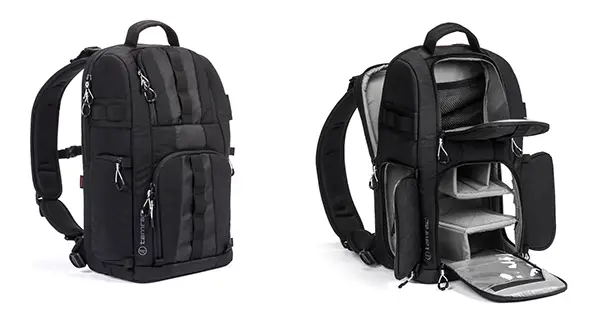 If you like versatile things, this camera backpack is a must-have. It offers a few ways to carry and access your gear yet looks neat and accurate. Total win!
24. Days with My Father by Phillip Toledano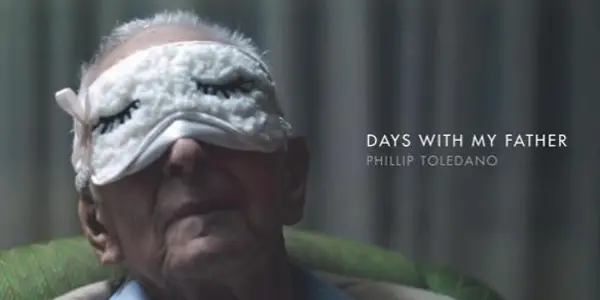 This book is  a great gift for everyone. It covers the story about a photographer's life that can impress and inspire you on your own achievements. Check out our collection of 10 more inspiring books for photographers.
25. Fun Film Canister Toilet Paper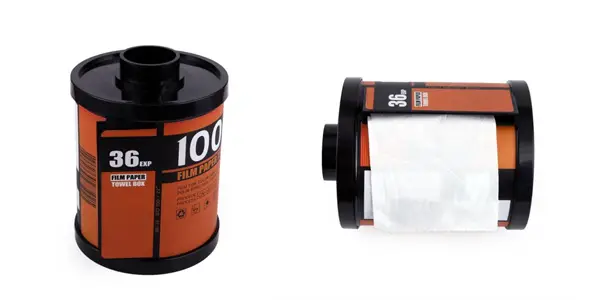 They even made toilet paper for photographers! I'm afraid to think what will be next. Anyway, you can play a joke on  your photographer friends or add some fun to your bathroom!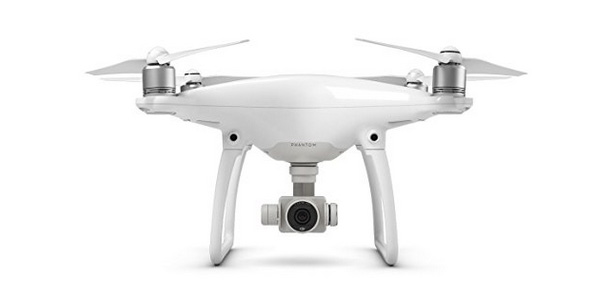 This next generation drone with 4k video, 12 MP photos and an f/2.8 fast lens features auto take off, return, and auto object avoidance.  No more accidents while getting those aerial shots!
27. Instax 90 Mini Classic Instant Camera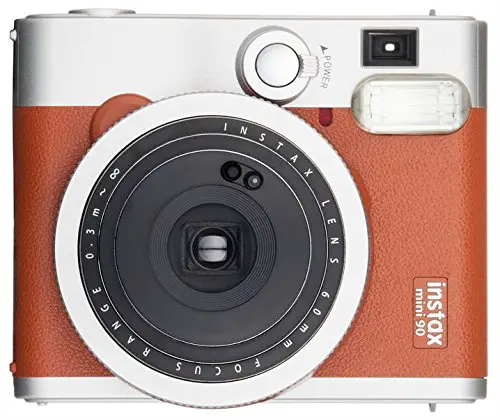 This classic instant camera has six shooting modes and endless possibilities to play around with.
28. GIZMON Camera-Inspired Case For iPhone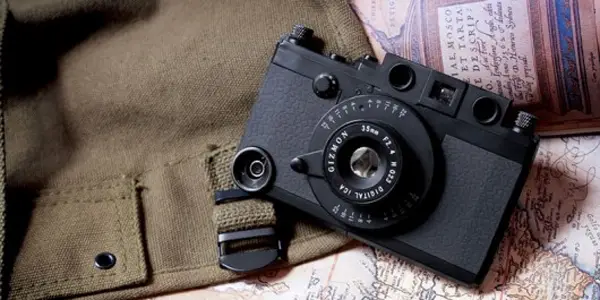 This camera-inspired camera case is a great attribute for iPhone photographers. Its cover is really detailed and handy.
29. Wireless Tethered Photography Solution DSLR Remote Control & Live Viewfinder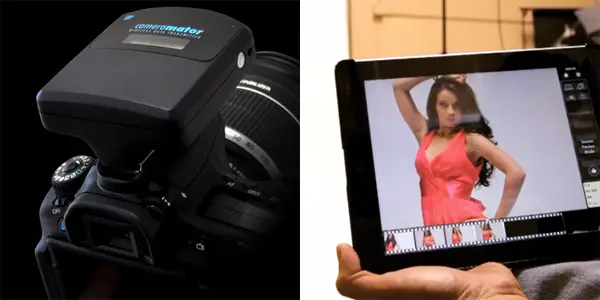 No cables to get in your way! Move your photo sets beyond the viewfinder to your iPad screen with this cool device.
30. The iPad/iPhone/Android Telephoto + Other Lenses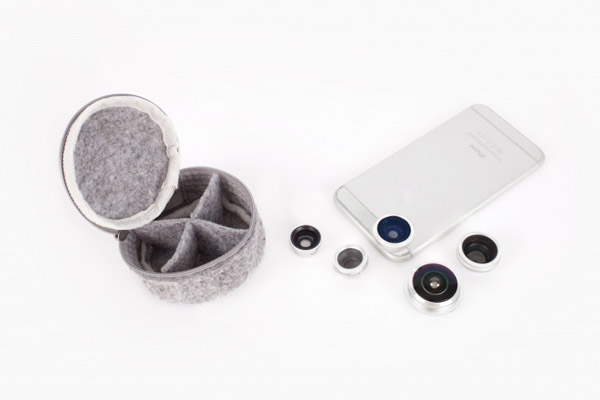 It's time to get your iPad photography 10 steps further with this awesome telephoto lens!
31. Limited Edition Polaroid SX-70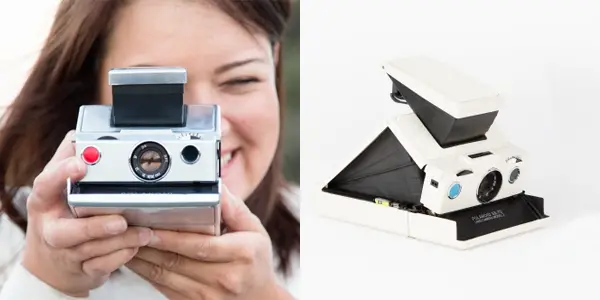 The Polaroid SX-70 is the first camera to take internal instant film that probably will never be topped. The edition is limited, so hurry up!
32. Insanely Great Photo Projects and DIY Ideas book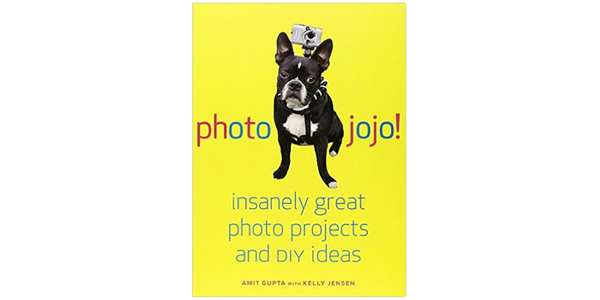 This book will show you how to transform your favorite photos into clever displays and photograph subjects in new creative ways.
33. Camera Lens Mug/Lens Coffee Cup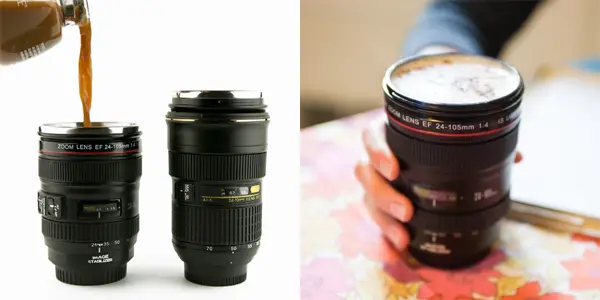 I'm pretty sure that a mug that looks like a favorite photographer's attribute – a lens – is a  dream for any photographer. The mug has highly realistic details.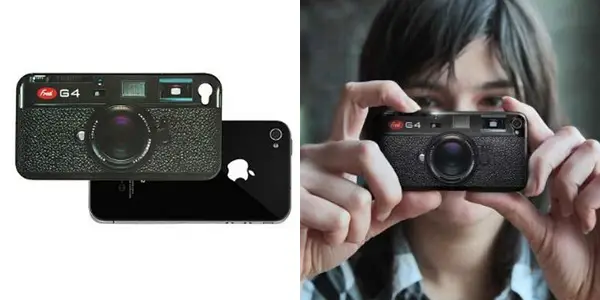 Give your iPhone a cozy look with this funny, hard-shell case.
35. Apple iPad 5 in 1 Camera Connection Kit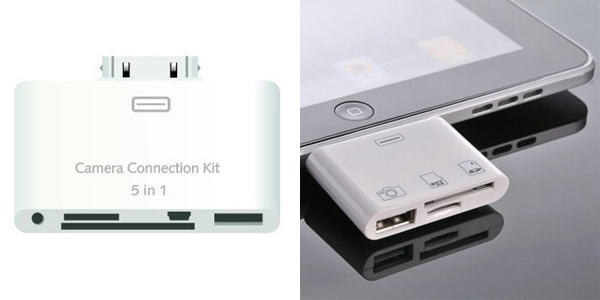 It provides you with two ways to download photos to your iPad easily and quickly. One uses USB data cables to connect a camera, and the other one is directly read SD or Micro SD memory cards. Make some free space to take more pictures with your camera.
36. Photojojo iPhone and Android Lens Series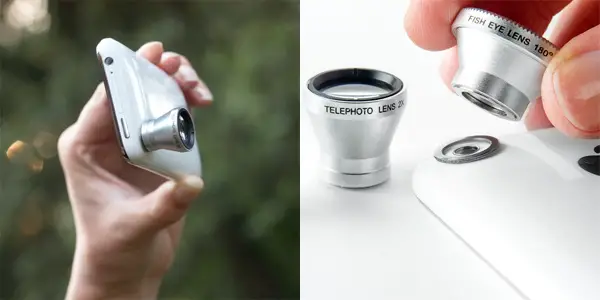 Sadly, time goes by at the speed of light. And today, we make more photos with our new iPhones than a professional camera. But you're in luck! This lens will help you to take macro pictures like a pro with your iPhone.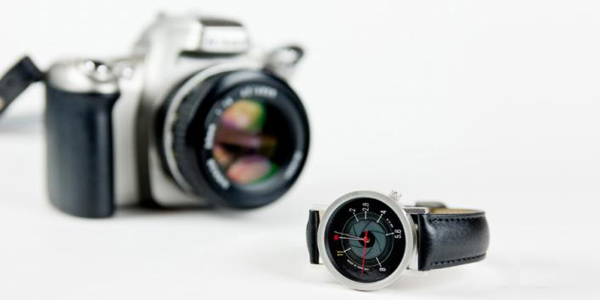 It is a perfect gift for any photographer. The numbers of the F-stops in white marks are featured on this watch; every other number is unmarked. With this watch, it is always time to take photos!
38. Sony a7 Full Frame Mirrorless Camera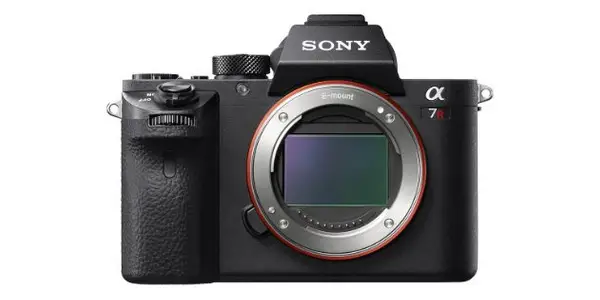 Imagine the photos that will come out of this 42.4 megapixel, ISO 102400 beauty!
39. 8GB Nikon Camera Shaped USB Flash Memory Drive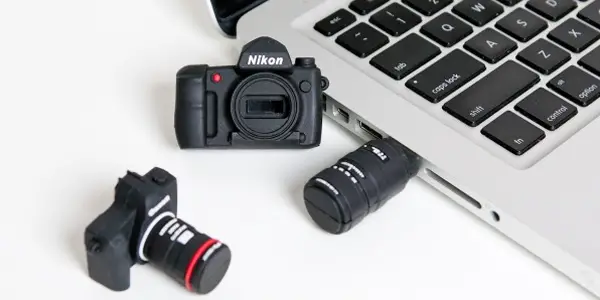 Why not surround yourself with the most delightful desk companions? This small, cute camera is not a camera at all! It is a useful and handy USB flash drive.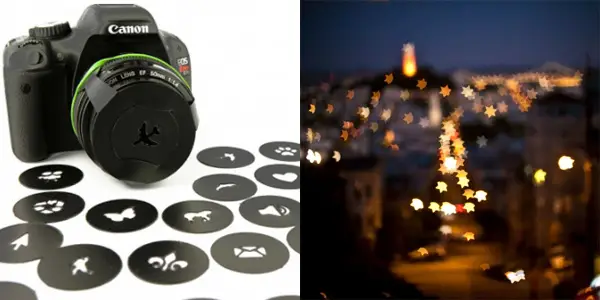 If you have a talent for night shooting, this awesome bokeh kit was made especially for you. It will help you take really dreamlike night photos. Create true magic with your camera!
41. Camera LED Keychain with Sound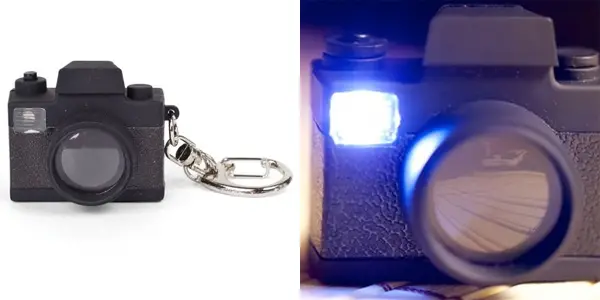 This cute mini camera does not take pictures, but it is a cool keychain that makes shutter sounds and flashes light when you press a button.
42. Cam Caddie Camera Stabilizing System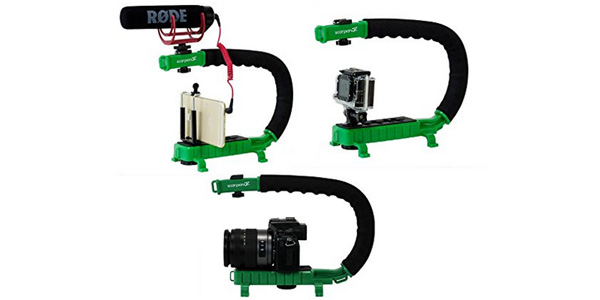 This clever system can help you get stable shots and new angles from your SLR, phone, or Gopro, not to mention it allows you to attach accessories.
43. Lowepro Fastpack 250 Camera/Laptop Backpack
You can shoot all day long not worrying about your photography equipment. It will be safe with this cool backpack. You can go for a long shooting walk and take all the necessary things with you.
44. Camera Mode Dial Cufflinks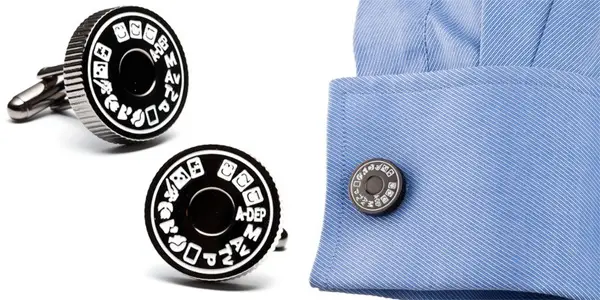 Whether you are Richard Avedon or just a fun-loving tourist, there is a chance you'll recognize the dial and icons for portrait, landscape, macro, action, auto and many more on these cute cufflinks. It's a perfect gift idea for any photographer.
45. Canon OIS Lens LED Flashlight Keychain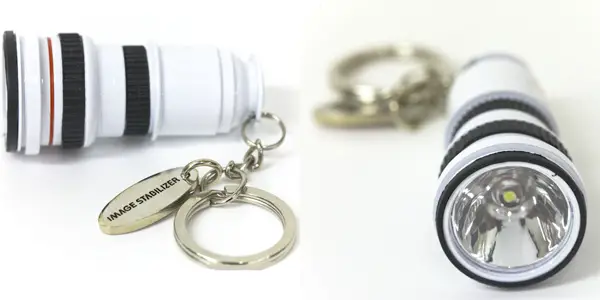 This keychain won't help you take night photos, but it will definitely help you illuminate your way home in the darkest of nights. It has a total lifespan of up to 10,000 hours  so you stand a better chance of growing old than having the flashlight go out.
46. Wi-Fi Digital Photo Frame with HD Video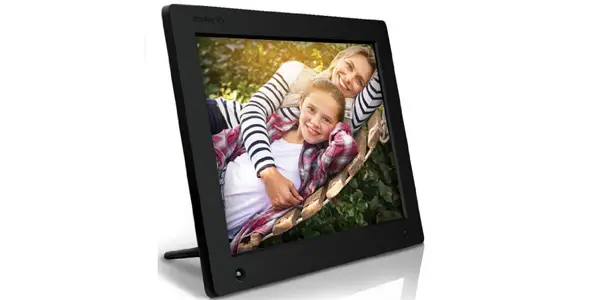 Your ultimate photo collection is at your fingertips now. This digital frame shows the pictures and receives them from the most popular social platforms.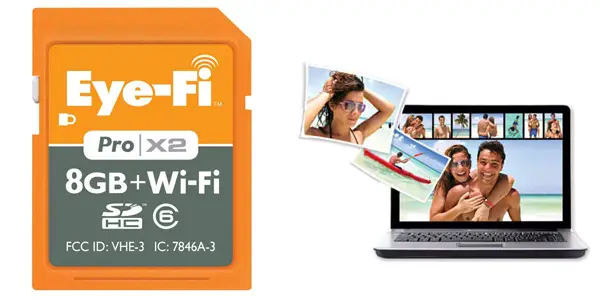 What if your photos could automatically fly from your camera to the computer, tablet or even smartphone? With this flash memory card, you have no need to hunt around for the camera cable anymore because all your photos will land in data-based folders on your PC. Eye-Fi does all the work for you!  Various capacities.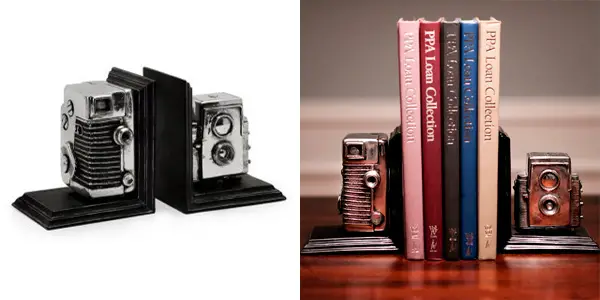 These bookends are so sweet. I'd like to see them in my office. Old-fashioned, vintage camera bookends can be a great Christmas gift.
49. Joby GorillaPod SLR-Zoom Flexible Tripod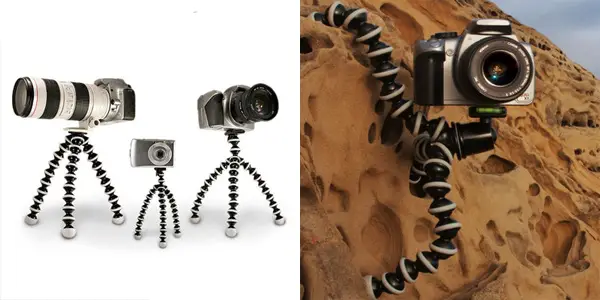 I dare say that the common tripod is dead. This flexible tripod supports your camera just like a mini version of an original tripod. Impossible angles, vacation photos with everyone from your company, long exposures…all this becomes possible.
50. Ricoh Theta 360 degree still and video camera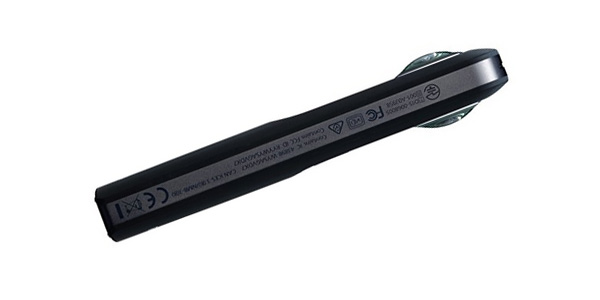 If you think 360 degree panoramas are cool, wait until you record your first 360 degree HD movie and look at it on Youtube or in a set of VR goggles.
51. Funny T-shirt for a Photographer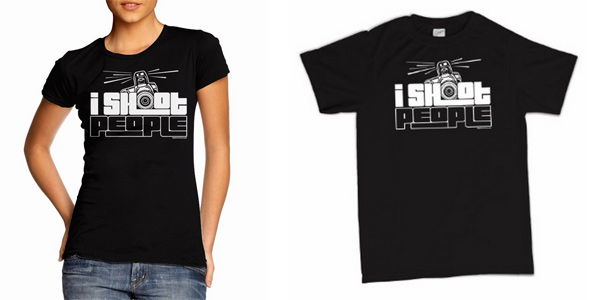 Tell everyone who you are in a creative way. This T-shirt is super-stylish and comfortable.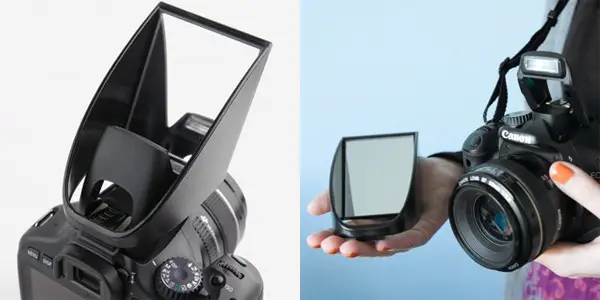 Say "no" to bleached faces, red eyes, harsh shadows and cave effects from the direct pop-up flash. This bounce flash device will show you how to shoot like a real pro.
53. Aquapac SLR Camera Waterproof Case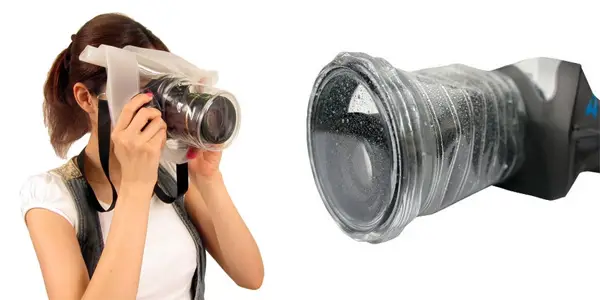 If an underwater digital cam is not enough for a photographer because he does not let the SLR out of his sight, you can give him a camera case that will keep his equipment dry.
54. Lomographic Fisheye Circle Cutter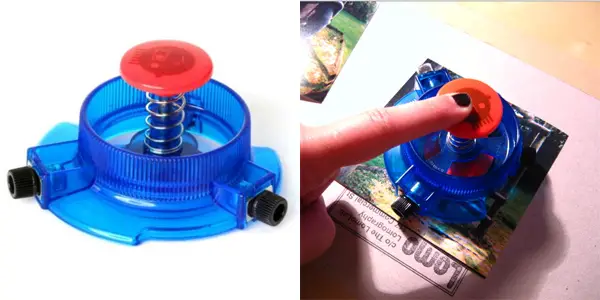 Rules are made to be broken. Break all the photography rules with this lomographic fisheye circle cutter.
55. Lomography Spinner 360 Degree Camera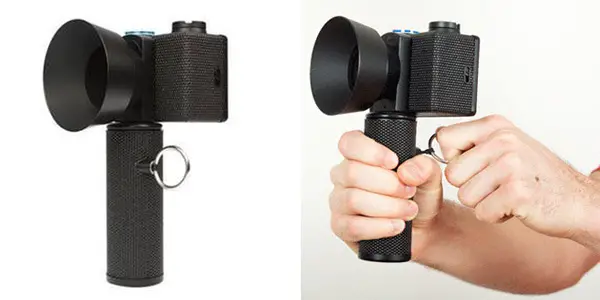 Just go beyond the confines of standard landscapes and capture everything around you in one, 360-degree photo. It is possible with this lomography spinner camera.
56. Collapsible Multi-Disc Light Reflector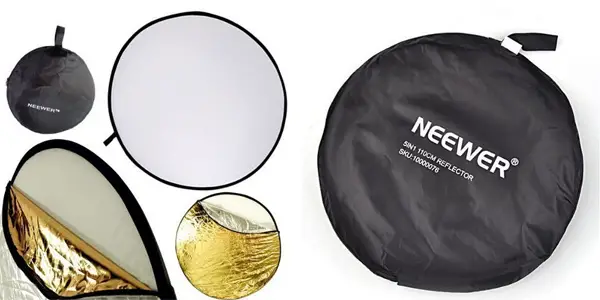 This pack comes with five of the most popular surfaces, so choose the one you like the best.
57. Lensbaby The Control Freak for Nikon F mount Digital SLR Cameras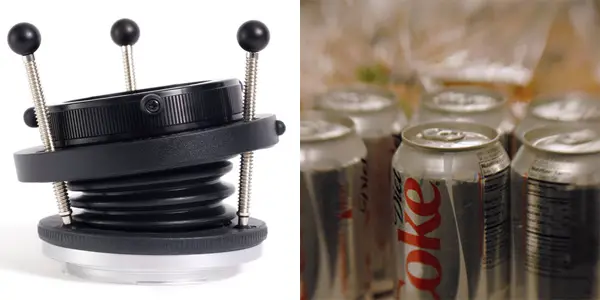 Would you like your friend to take original and unusual photos? This cool, tilt-shift lens will help.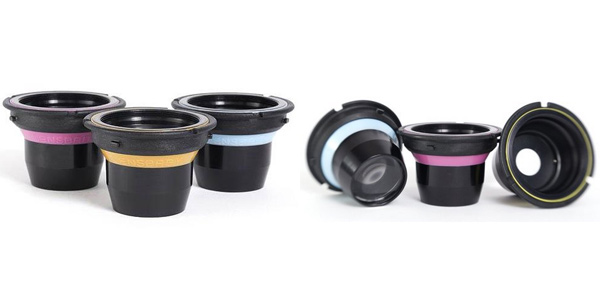 This kit includes three optics options: single glass, pinhole and zone plate. Each optic creates an ethereal, dreamy look. It will take you to new artistic horizons.
59. Lomography Sprocket Rocket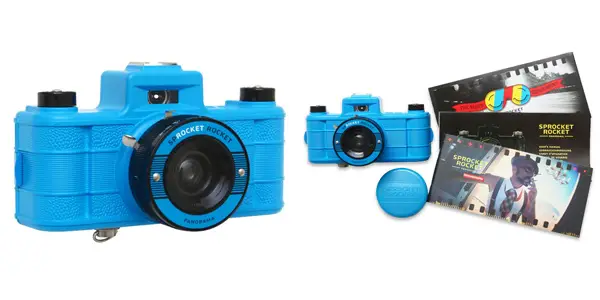 This camera is here to take general photography into a new, exciting era. Taking multiple exposures has never been so easy!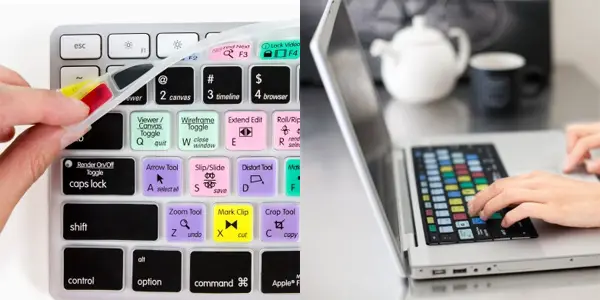 I'm pretty sure that you wouldn't learn how to type on the keyboard without letters on it, so why should you try to learn keyword shortcuts with no shortcuts on your keys? This custom-fitted, colorful keyboard skin is available for you.
61. Hard Frosted Back Case Cover for iPhone 6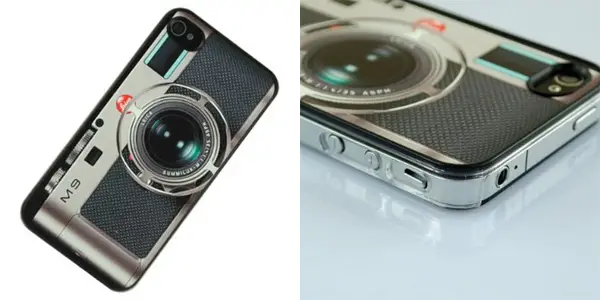 This amazing, hard-frosted, back-case cover will bring a brand new look to your iPhone.
62. Book for Photographers "Extraordinary Everyday Photography"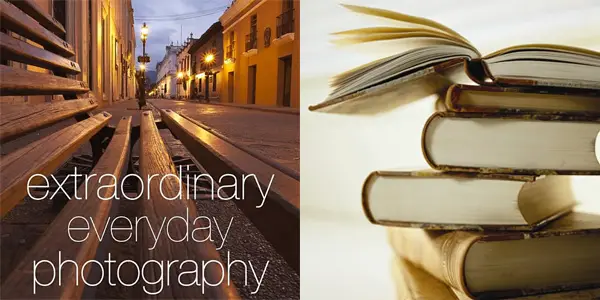 This book will inspire you to discover all the beautiful things around you. Fantastic images are hidden almost everywhere; you just need to see them.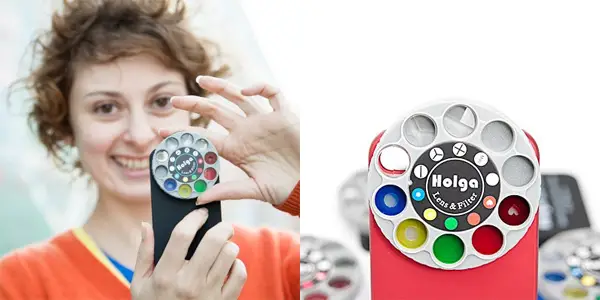 Of course, there are lots of different apps to add style and color to your shots, but do you really want a robot to have all the fun? I'm sure you don't! This filters and plays with your pictures.
64. GENUINE WhiBal G7 Certified Neutral White Balance Card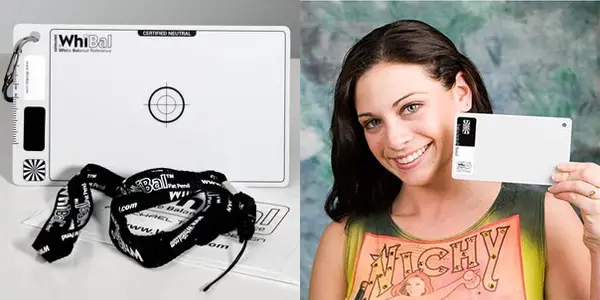 This white-balance card perfectly fits in one's pocket. Also, you can hang it on a hook or set it on the table…whatever! The card can be used in all your shooting situations.
65. Mini Reflex DSLR Camera Style LED Keychain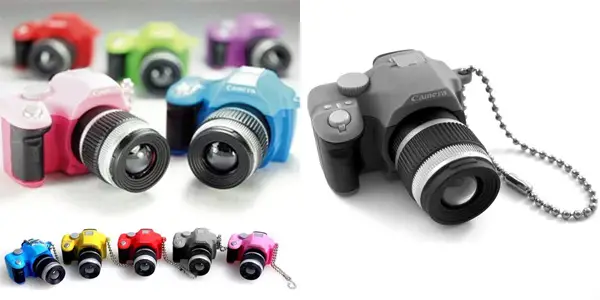 This cute toy that looks like a camera and has a flashlight will be a great decoration for your bunch of keys. It is available in different colors.
66. Polaroid Digital Instant Print Camera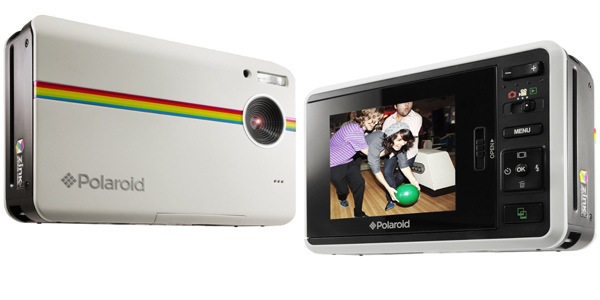 This camera has an integrated printer with zink paper. So you can capture, edit and, in less than a minute, print your photo.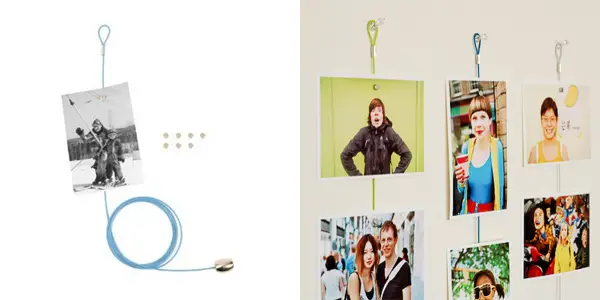 You can make a surprise for your friend-photographer. Take these cute clips and create a photo gallery with his or her works in a studio or at home.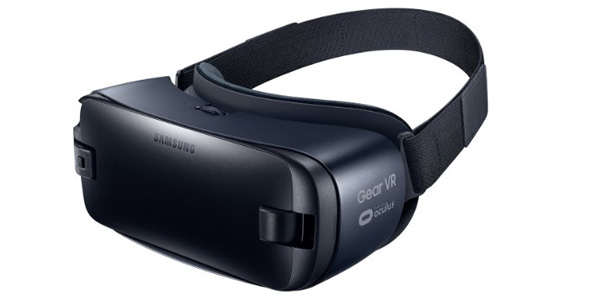 Get ready to experience photos, movies and games like you've never done before.  Enter the world of virtual reality and be surrounded by your environments.
69. Tile Pen Holder with Camera Design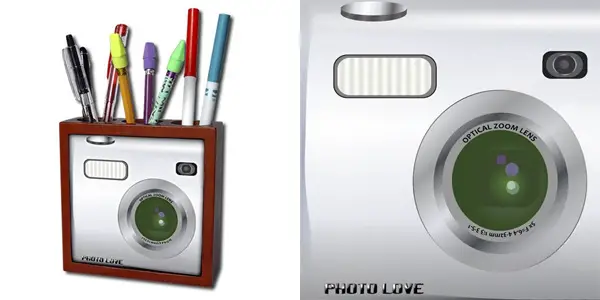 This pen holder with a camera design is a really good gift for a photographer or a photography fan. Your pens will never be lost with this cool holder.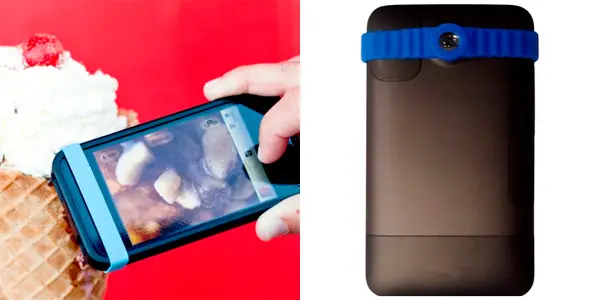 I'm sure that your iPhone is not a phone anymore. It's a great toy! Add some new features to your iPhone camera with this easy, flexible macro lens. Open a wonderful macro world in everyday things around you.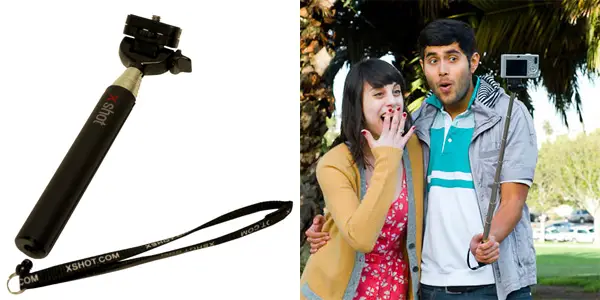 Forget about trip photos without you! Forget about asking, "Excuse me, could you please take a picture of us?" Being a photographer is not a reason to not show up in all memorable shots. This pocket extender will help you on any trip.
72. Sticker Picture Frames, Set of 8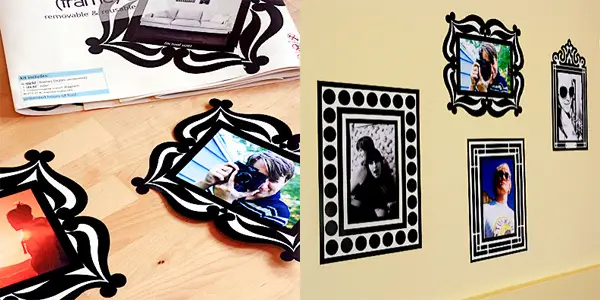 Change the photos at home quickly and easily. With sticker photo frames, you can change the images even every day.
73. Holga 135 TIM 35mm 1/2 Frame Twin/Multi-Image Camera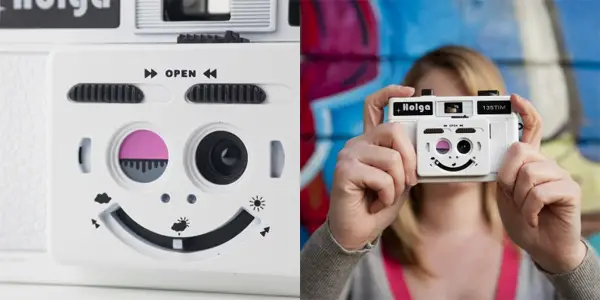 I think this camera will make its owner very happy because of its really cute face on the front of the camera body.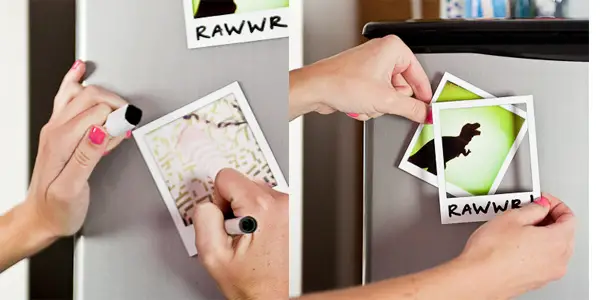 Do you like the style of Polaroid photos? You can turn an ordinary image into a Polaroid shot with these nice frames.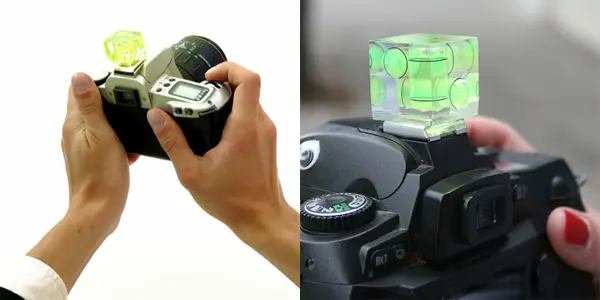 A level camera cube will help you  achieve balance in your shots.
76. The White Balance Lens Cap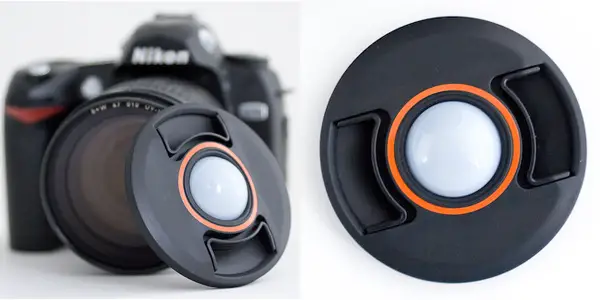 You may think that your automatiс white balance is good enough. You have likely never seen the pictures that were taken using this white balance lens cap. You will feel the difference at once when you put it on your lens.
77. Samsung Gear 360 Degree Camera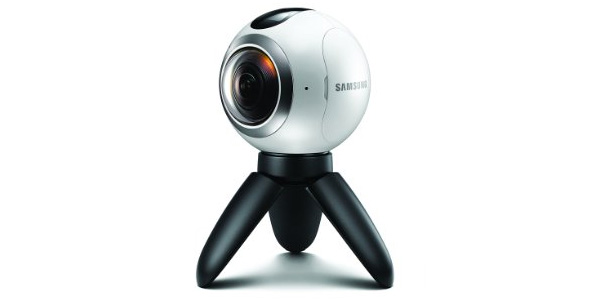 This futuristic looking camera takes 360 degree photos and videos with one click using two F/2 lenses and automatically stitches them together.  Easily post to Facebook for interactive viewing or use a set of VR goggles such as those above.
78. Camera Buckle Lens Cap Holder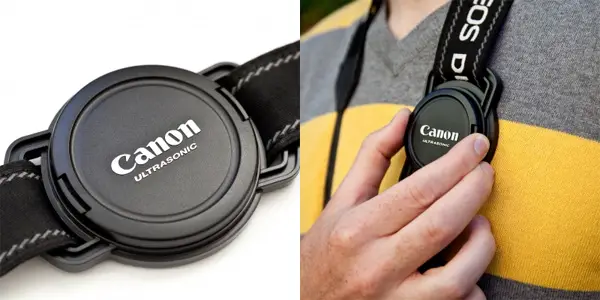 Have you ever lost your little, cute lens cap? I am sorry if you have! This camera buckle lens cap holder will keep your cap safe.
79. Polaroid Carrying Case for PoGo Instant Mobile Printers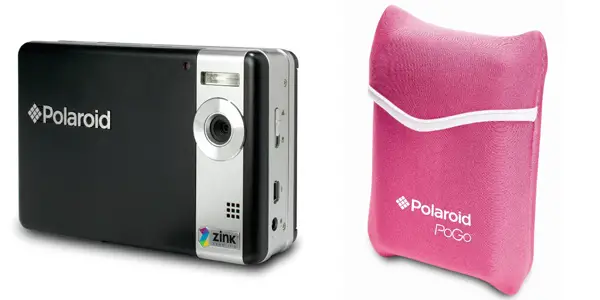 This cute  case will spare your Polaroid instant mobile printer from dust and damage during transit.
80. LensPEN Lens Cleaning System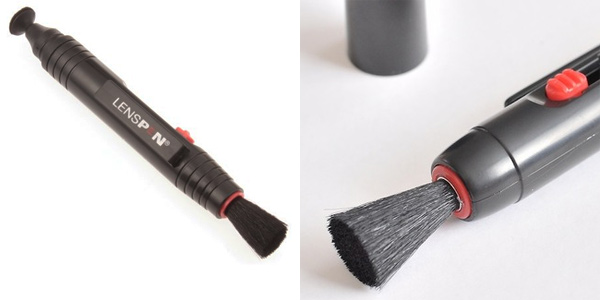 This cleaning pen is safe for use on all lens, plasma and glass surfaces. Nothing will help you  remove oily fingerprints better than this lens pen!
81. Pico Flex Dolly Kit for Your Camera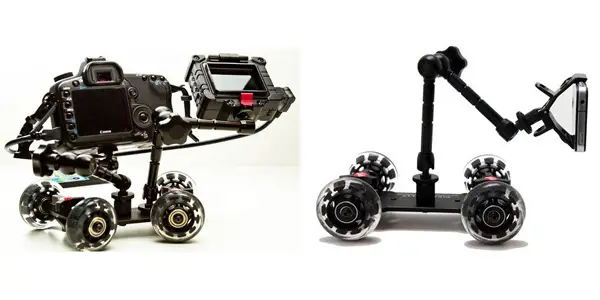 This useful, simple and lightweight dolly kit will help you take amazing shots. It comes with a travel bag and a clip for your iPhone. It is an excellent example of attention to detail.
82. Canon SELPHY Wireless Color Photo Printer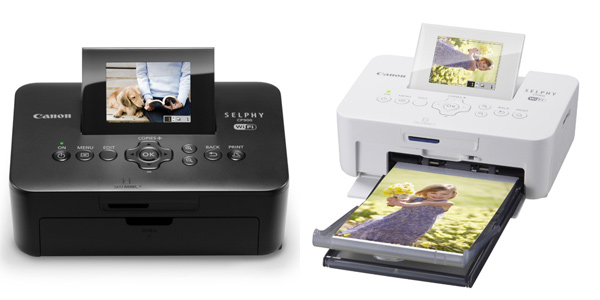 Now you can print your pictures right from your computer, iOS and Android device. It's all possible with this awesome, compact photo printer.
83. DENY Designs Shannon Clark Swinging Throw Pillow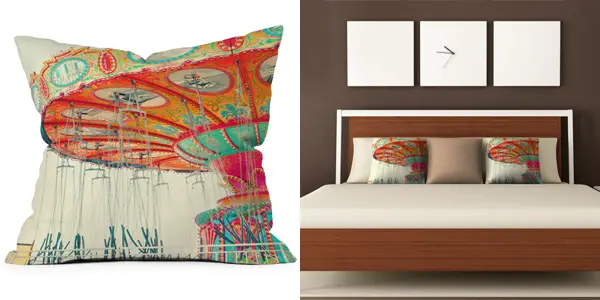 Trying to make your home more cozy and comfortable? Take a look at this nice pillow with an amazing photo print of a carousel. It's like a flashback from childhood!
84. DIY Photography Camera Cookie Cutters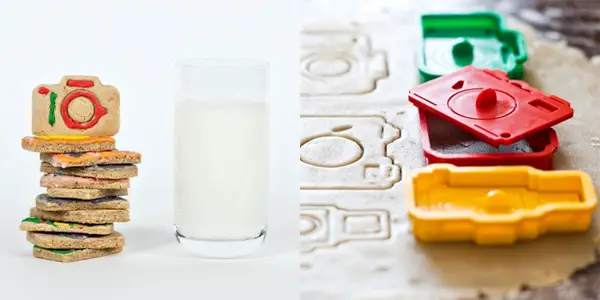 Cameras as the main source of your inspiration are super delicious, aren't they? Meet the camera cookie cutters that will help you  make funny, tasty and cute cookies!
85. Pocket Flash Memory Card Reader/Writer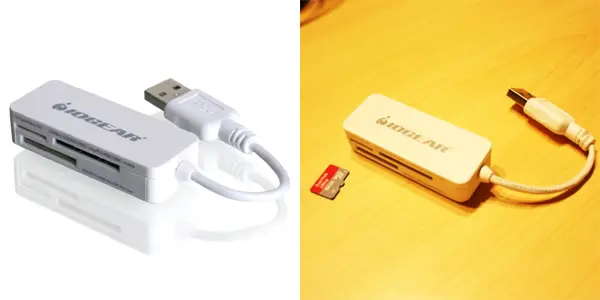 This pocket flash memory card reader and writer is a perfect solution for image and data transfer between your computer and other multimedia devices.
86. Pocket Pod Fully Adjustable Camera Support System – Camera Bean Bag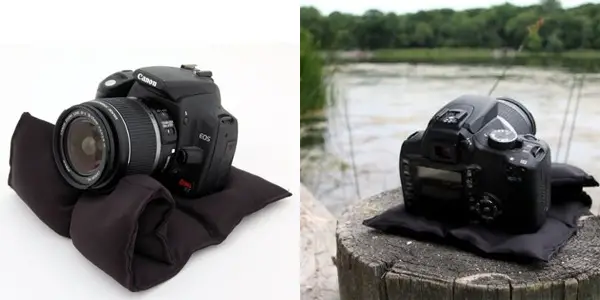 How many stunning photos were ruined due to camera shake, especially in low light conditions? A tripod is a typical solution, but there are situations when you're not able to use it. This support system will surely allow you to capture great shots on just about any surface.
87. Family 4 Opening Wall Collage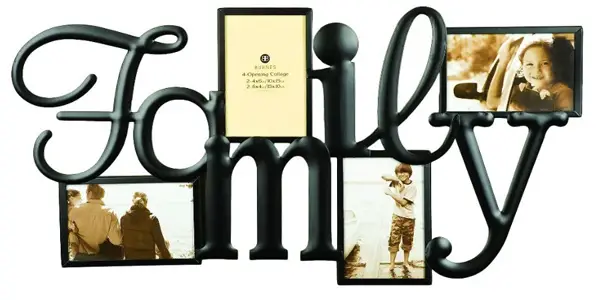 This fantastic wall collage is a great way to present your family photos. It can be a nice gift for a photographer.
88.  2.2x High Definition Telephoto Lens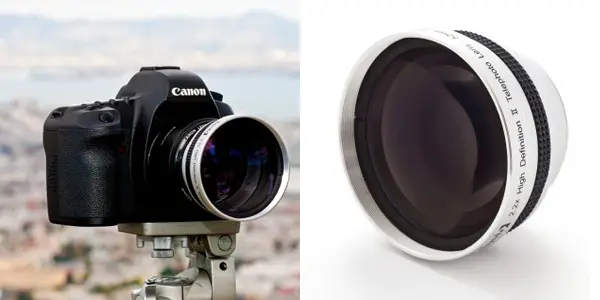 Give your camera extra reach on top of your regular lens, when you're not able to get closer.
89. Link Depot LD-MCHOLDER Memory Card Carrying Case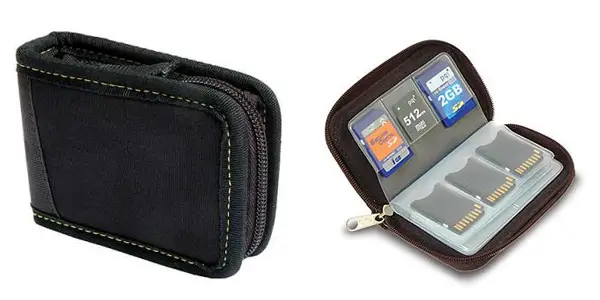 Small flash memory cards and other teeny items will never be lost with this awesome carrying case.
90. Thinsulate Thermal Insulation Fingerless Texting Work Gloves with Mitten Cover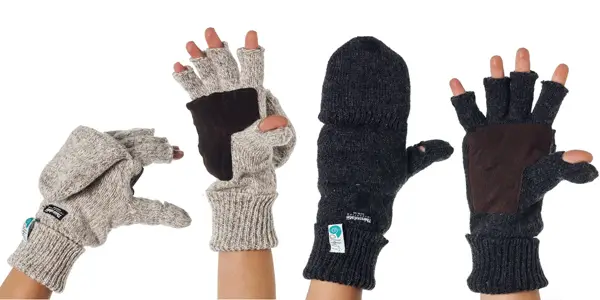 It's a perfect time to get ready for winter. These gloves are warm and comfortable. Check out the cut fingertips for easy texting, typing and taking shots.
91. Wireless Remote Control RC-6 shutter release for Canon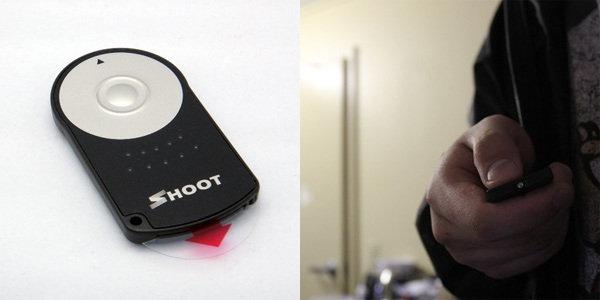 This remote control works as a wireless shutter release that is capable of triggering the shutter at a distance. So now you're able to take good self-portraits without any help as well as long exposures without shake.
92. Nikon 8072 Microfiber Cleaning Cloth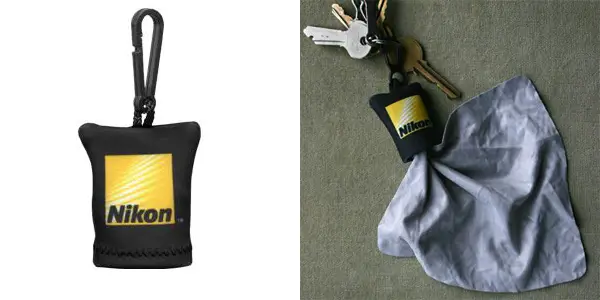 A microfiber cleaning cloth is hidden inside a small bag that looks like a keychain and can be clipped to your keys or camera equipment.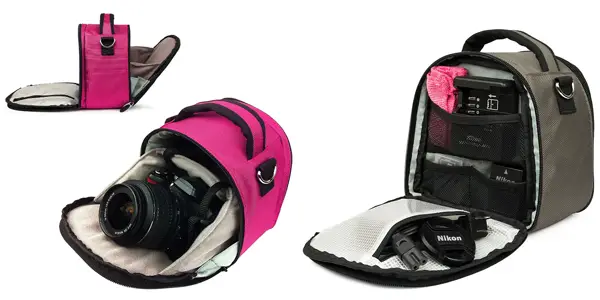 This bag looks like a casual one, but in fact it is a cool travel bag. With it, you can always hide your favorite cam from the thieves.
94. Polaroid OneStep SX-70 White/Rainbow Camera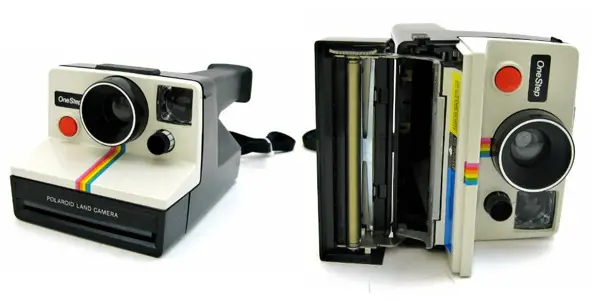 This camera is an amazing combination of retro style, well-built design and functional application with integral film.
95. Ring Light for Phone cameras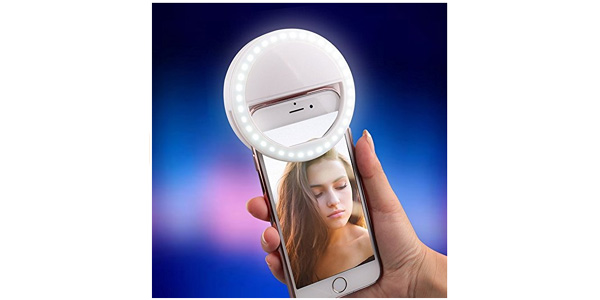 So you want a ring light that will fit your phone camera?  Sure, it exists.  Great for selfies and any time a constant, adjustable light source is needed.
96. TdZ Retro Fashion Paparazzi Film Camera Ring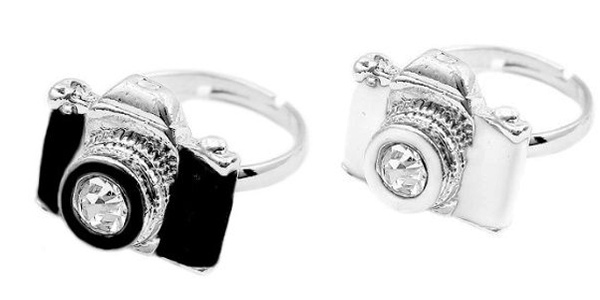 This nice, stylish vintage ring with a camera will be a nice gift for your girlfriend or sister.
97. Retro Camera Photographer Necklace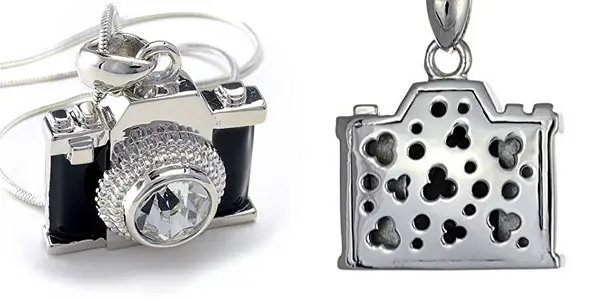 This stunning necklace is available in 18″. All fashion girls rejoice!
98. Time Lapse and Stop Motion HD Video Camera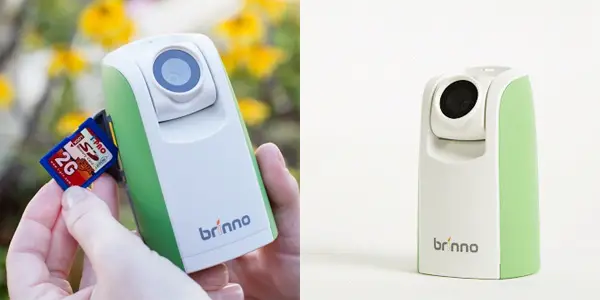 This video camera was designed to make HD time lapse photography as simple as possible. It has the flexibility to change lenses.
99. Pioneer 200 Pocket Fabric Frame Cover Photo Album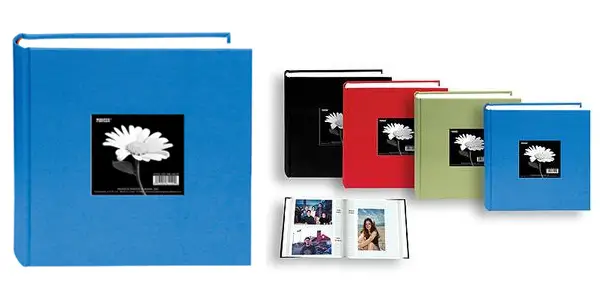 It's quite difficult to find a good photo album these days, but maybe this one is exactly what you want?
100. USB Flash Drive Disk Shining Golden Bullet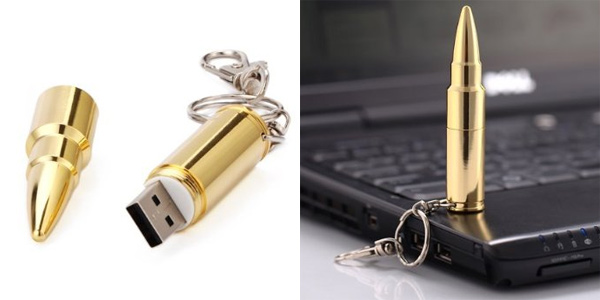 This golden bullet in your pocket is not a crime, but a necessary tool! This USB flash drive disk in the form of a bullet will be a great gift for Christmas.
101. 5 in 1 Wide angle, Fish Eye, Macro, Tele, CPL lens for Phones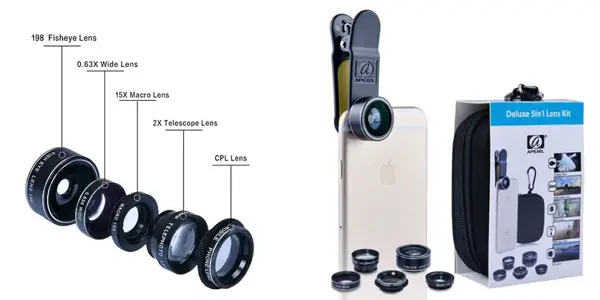 Fish eye-effect photos are popular today. So what are you waiting for? Buy this cute lens, and take creative shots with your Phone! Not to mention all the other effects!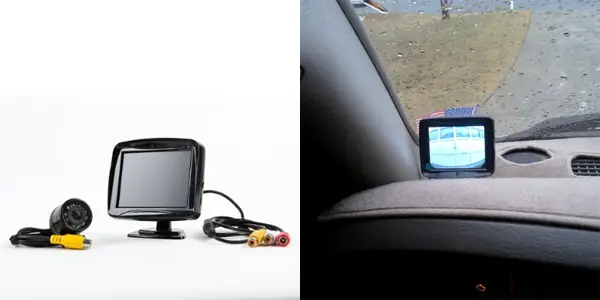 This backup car-camera system will give you the ability to see everything behind you even if your car did not come with one.
103. Polaroid Zink Media Photo Paper for Polaroid Pogo Cameras and Printers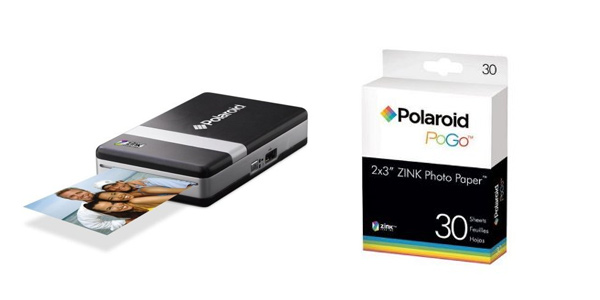 Shooting with a Polaroid camera is so exciting! But sometimes you run out of paper for printing at the most inopportune moment! So stock up on it beforehand.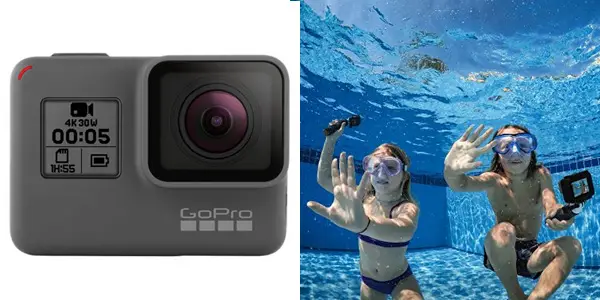 These cameras were designed specifically for use during sports but they are great whenever you need your hands free or even for drones.  Don't lose any interesting moments!
105. Prime Multi-Purpose Bean Bag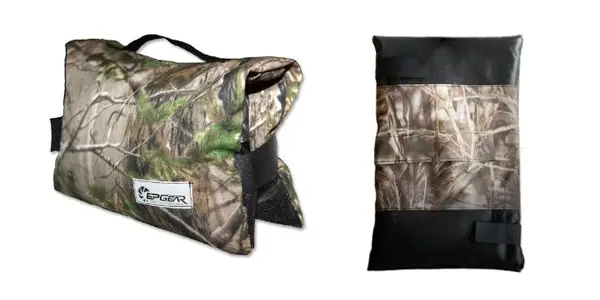 When the tripod is not helpful, use this cool bean bag to fix the camera and keep on taking good shots.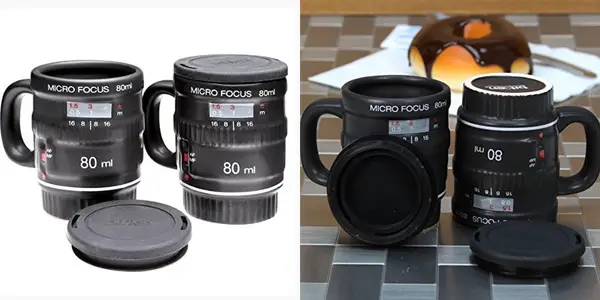 Of course you'll never forget the moment when you see someone drink from a lens mug. One more cup from this collection, but with a cozy handle.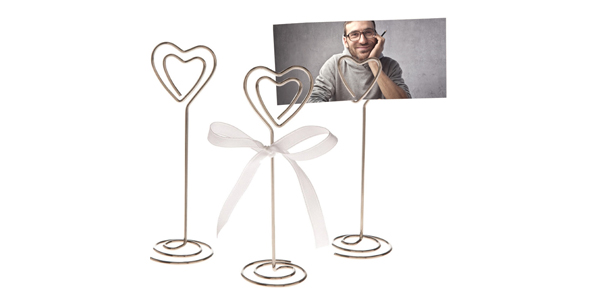 Cute clips with hearts for your lovely photos.
108. DENY Designs Leonidas Oxby Night and Day Throw Pillow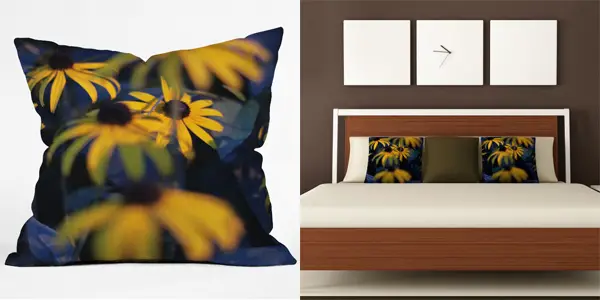 One more pillow with photo prints on it. Transform your room into a cozy, fun place.
109. Epson PictureMate Charm Photo Printer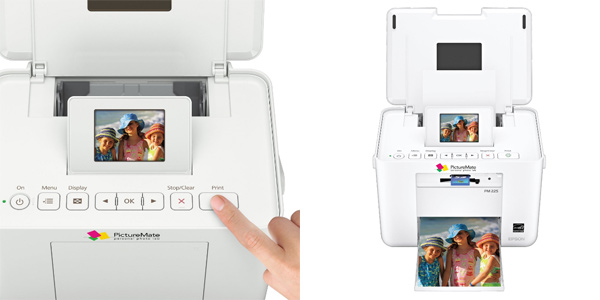 This compact photo printer allows you to print your photos directly from any digital camera.
110. Beautiful Black-and-White Photography Childrens Book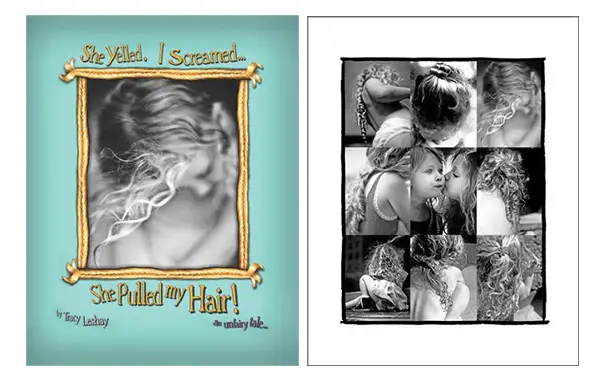 This touching and humorous story written by Tracy Leshay can be a real blessing for your special photographer. Not only is it made up of beautiful black and white photographs, but it is also a great way to introduce your favorite medium to a child – an opportunity many photography addicted moms and dads would appreciate.
111. Tamrac Goblin Memory Card Holder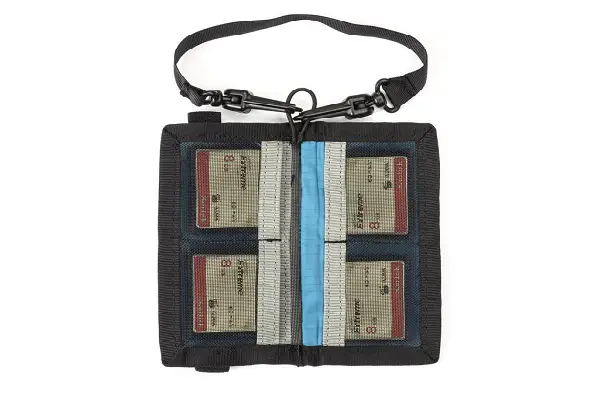 This memory card holder will come in handy for any photographer – it keeps your memory cards neat, organized, and right where you need them. Small yet valuable!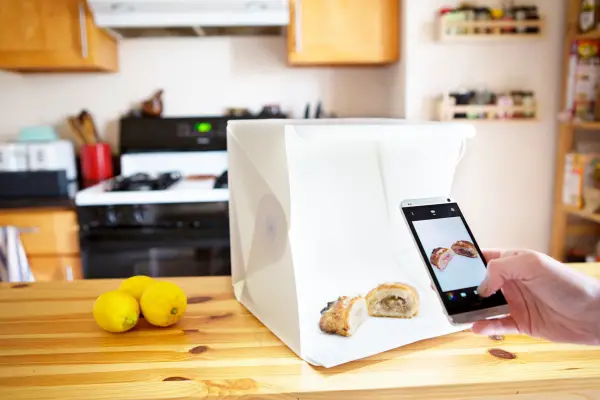 Need a good clean background picture for your latest blog post? Learning the lighting principles? Need a quick yet high-quality photo of an item to sell? This pop-up studio comes with everything you need to take quality pictures anytime and anywhere.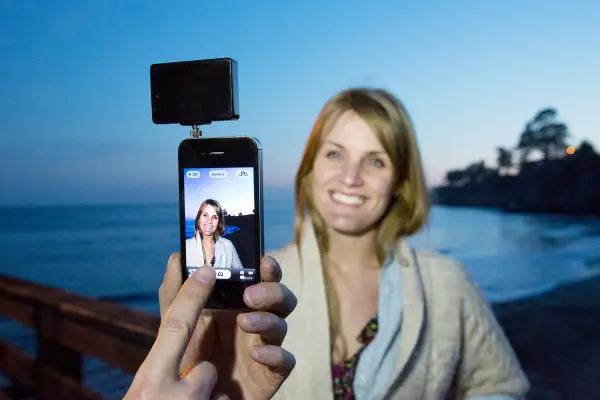 Unlike camera flash, the light is a constant source of light which can be easily mounted to the headphone jack of your smartphone, the hot shoe of your camera or just carried in your hand. Now, the lack of natural lighting is not an obstacle on your way to great photos.
114. Polaroid ZIP Instant Printer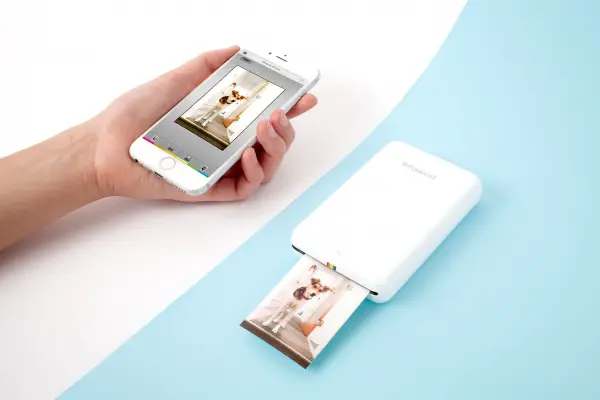 Turn your smartphone into a nifty instant camera with this smart printer from Polaroid. It uses no ink, no toner, only a cutting-edge ZINK paper enabling you to print out your photos and graphics in seconds. You can even quickly make stickers out of your prints by simply peeling of their backs!
115. Pixelstick Light Painting Tool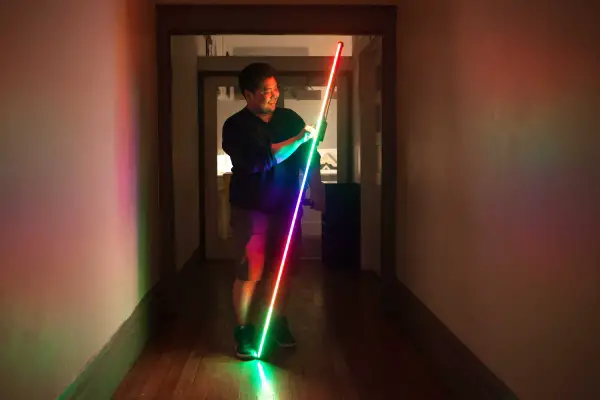 Bring your light painting to the "Pure Awesomeness" level with this programmable LED tool. You can light paint any shape, words, and even another photo across a long exposure. This thing can easily be your next favorite toy.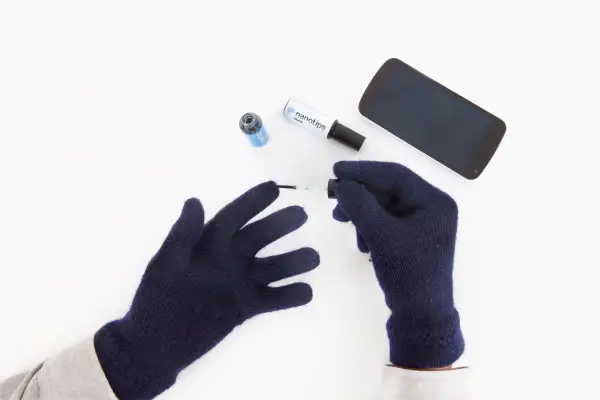 There are many touchscreen gloves available on the market today, but what if you love your old ones or want to buy some cute gloves without touch-enabled threads? With Touch Tonic you can use any pair of fabric or fleece gloves to take pictures with your phone keeping your fingertips warm and cozy.
117. Lomography Smartphone Film Photo Scanner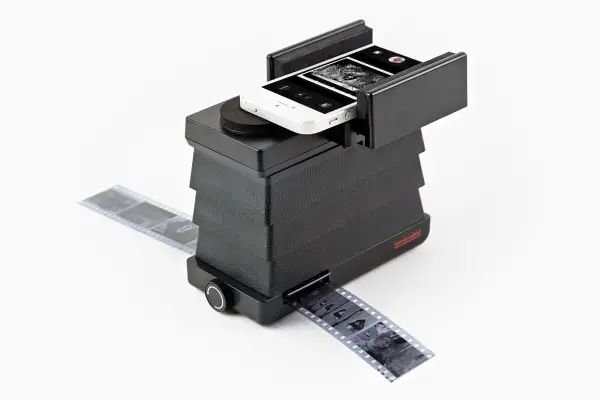 With this great device you can scan 35mm film right into your phone! Sharing your passion for analog photography was never this easy!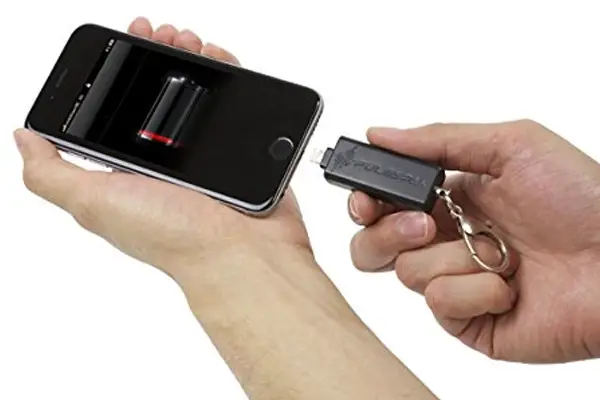 Ready to give a boost to your iPhone or Android phone, the power boost keychain could easily be the most useful keychain you've ever had.
119. PolarPro Macro Lens for GoPro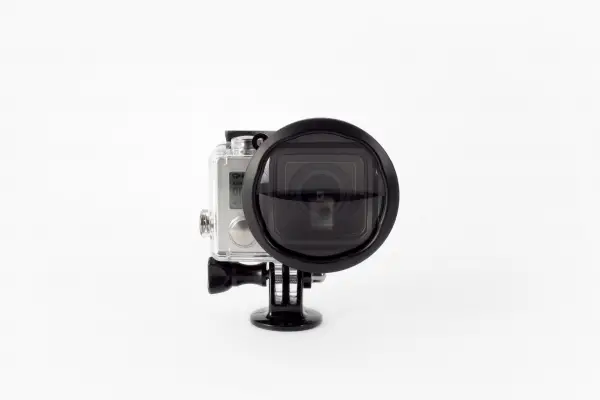 With this 3.8X magnification filter for a GoPro Hero  camera, you'll be able to get a big picture of a smaller universe.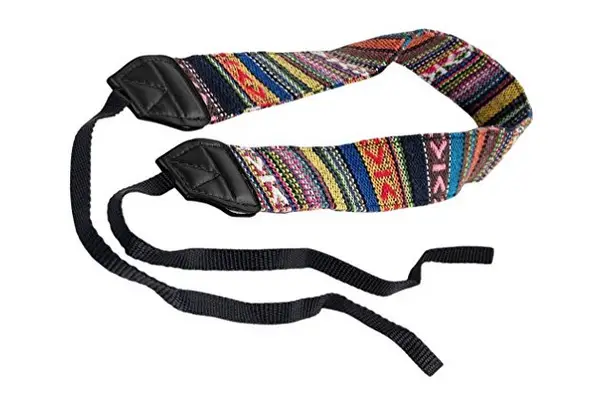 This colorful strap will give a warm  feel to your photography outfit.
121. Wood Camera Case for iPhone 7/8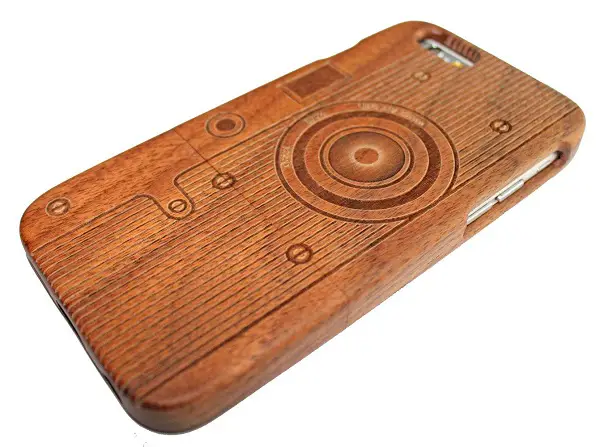 Subtle detail for a big passion. Express your love for iPhone photography with this stylish, 100% handcrafted case made of natural bamboo.
122. 600 Watt Continuous Lighting Kit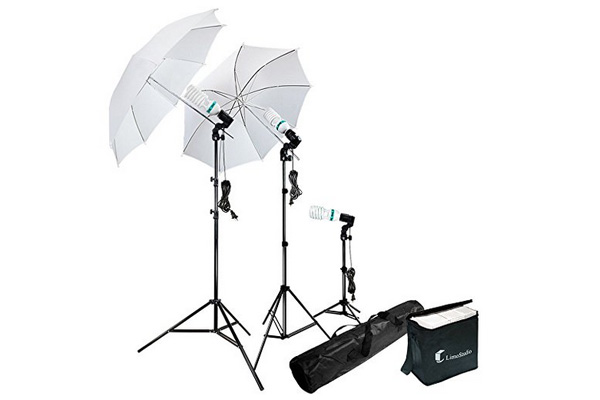 With this kit you'll forget what bad lighting is.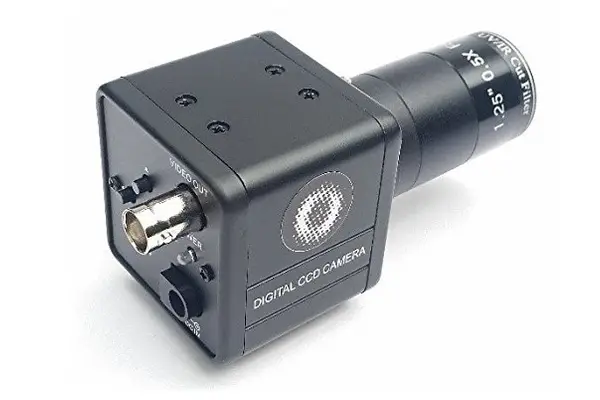 Does your photographer enjoy astronomy and own a telescope?  With this amazing imager he/she will be able to capture colorful nebulae and galaxies.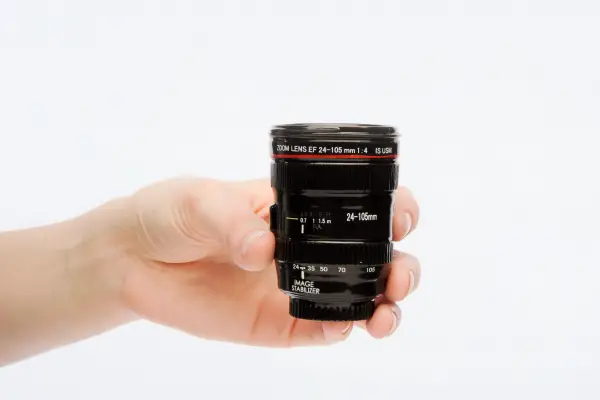 Whether you're hosting a photography club party or sipping espresso before starting a busy day, these nifty shot glasses will add coolness to your experience.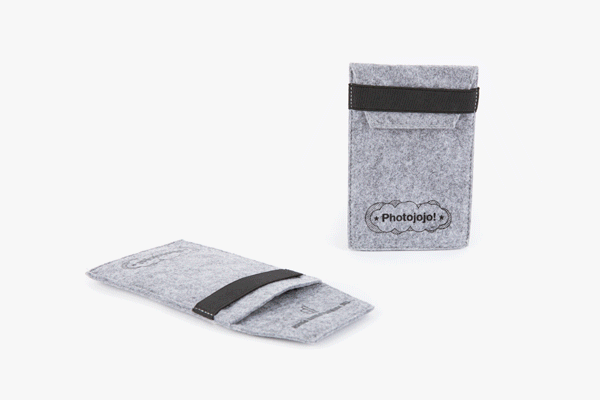 Made of soft felt, this pouch does a great job keeping your fragile camera gear safe. It has a Velcro back that sticks to your gear bag's inside and ensures secure carrying while you're on the go.
126. LIFE 100 Photographs That Changed the World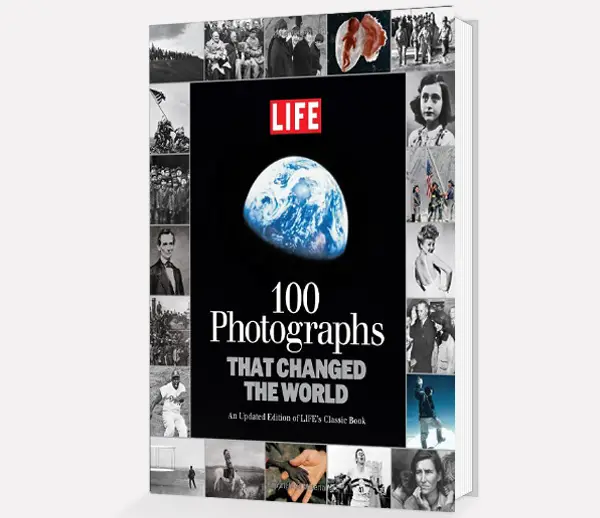 An iconic book that every photography enthusiast and history fan will be thankful for.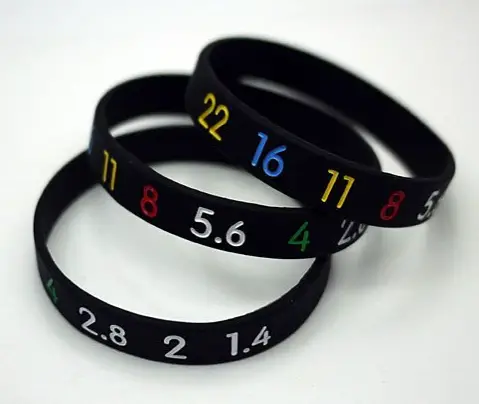 How cool are these?  Nice conversation piece and fashion statement.  They can also be used to stop zoom lens creep.
128. Best Business Practices for Photographers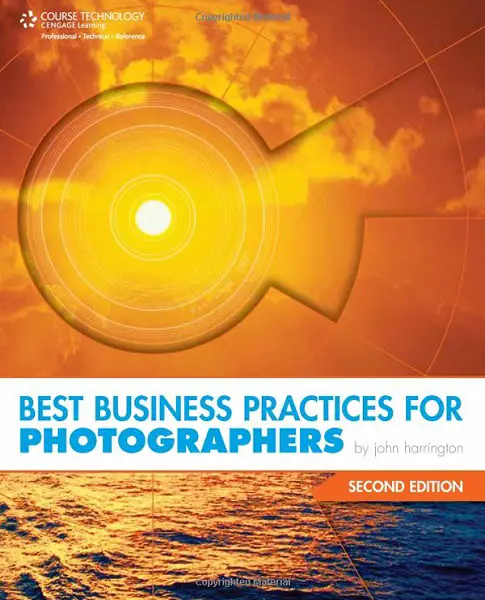 In his book, John Harrington offers an easy-to-learn approach to the hardest part for most creative professionals. A perfect gift for any photographer who dreams to reach success doing what they love most.
129. Light Science and Magic: An Introduction to Photographic Lighting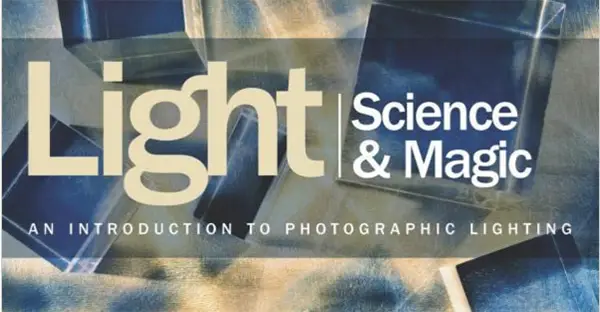 Regardless of technology progress, lighting is a topic that will never be out of discussion in the world of photography and art in general. Fil Hunter's guide on photographic lighting contains a goldmine of valuable information for both pro photographers and beginners.
130. Photography Q & A: Real Questions. Real Answers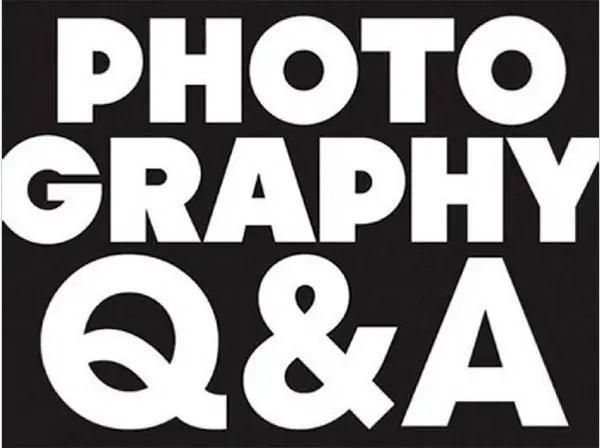 The book by the renowned photographer Zach Arias provides a candid and valuable look inside the photographic industry. It is a great way to receive necessary advice and guidance as you're navigating a rapidly-changing world of professional photography.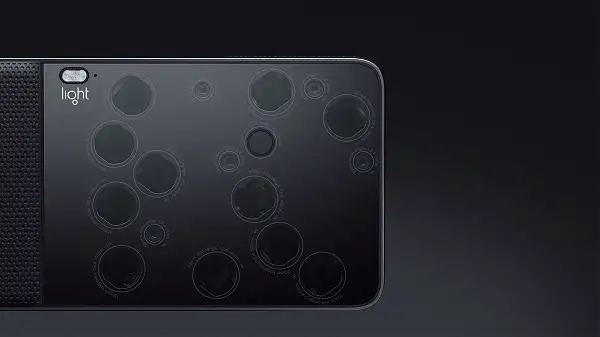 This weird spider-looking device (officially the world's first multi-aperture computational camera) is a new sensation in the photography world. With its one-of-a-kind optics design and cutting-edge imaging engine, it's definitely one of the best gifts to give, or receive.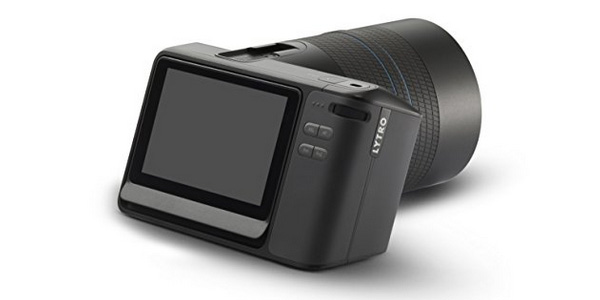 Light field photography is something you have to try to understand.  You select depth of field after you have taken the photo, even in the comfort of your home after a trip.
133. Vibes Hi-Fidelity Earplugs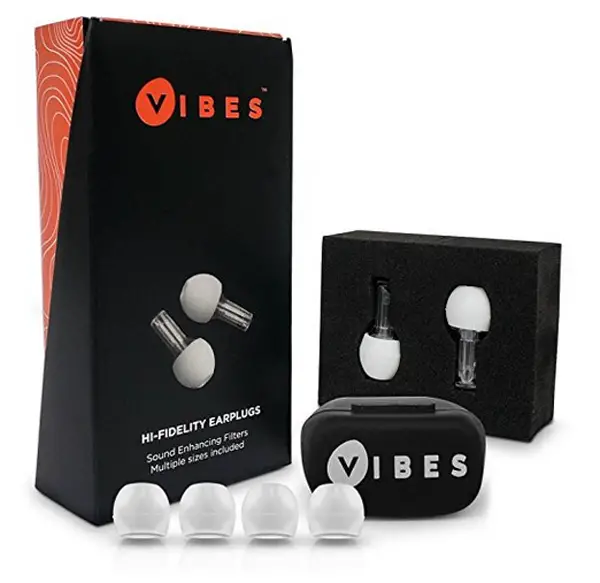 Any event photographer working at concerts and other loud events for hours will appreciate these nearly invisible ear plugs.  Not only do they lower the decibels, they make the sounds clearer so you can actually have a conversation with someone unlike traditional plugs.
134. Bonfoton Camera Obscura Room Lens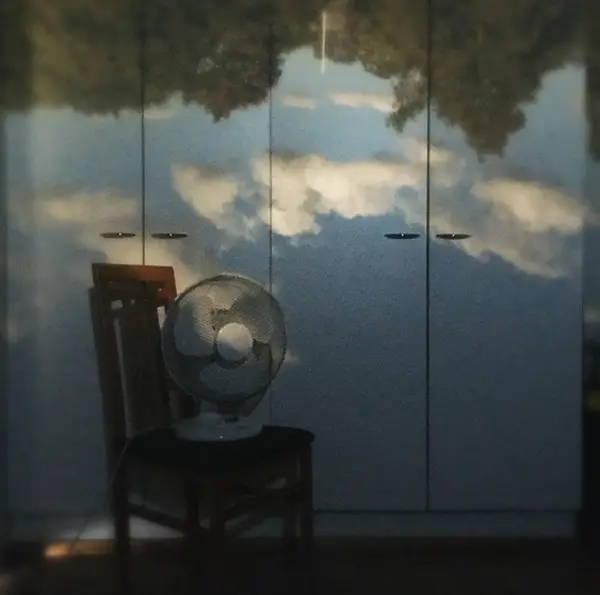 Ever want to bring live nature and clouds inside your room?  Now you can with this clever device that will project whats outside your window inside while making the image much brighter and sharper on your walls.  Hope you have your camera ready!
135. Lens Captions: Decorative lens caps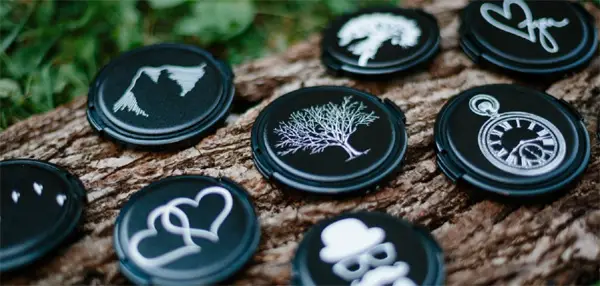 Give your camera some personality. Plain lens caps are boring.  They offer various sizes and styles.
136. Canon miniature camera usb flash drive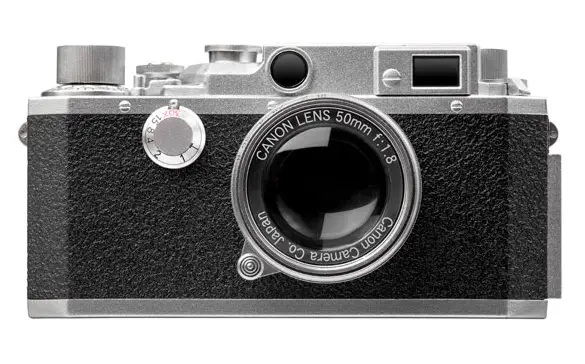 It may not be the cheapest, but how great is this little metal replica of a Canon IV SB rangefinder camera.
137. Instant printer for your phone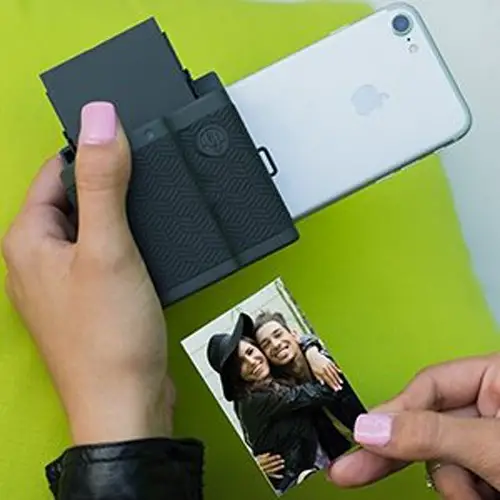 What a great idea, this device turns your phone into an instant camera.  You can print any image saved on your phone or take some photos and print them instantly.
We hope this collection comes in handy. Happy gift giving!
*** Feel free to check out more gifts ideas for those who do not stop at still images in our new collection:  Gifts For Filmmakers
Please note: This page includes affiliate links which helps keep the blog running and free to you.  Thanks for your support.