Inky's Birthday Treat: Get 50% off All Deals and an iPhone 5S
We told you about InkyDeals before. This time I'm happy to inform you that InkyDeals turns three! Since founding of the project, InkyDeals managed to gather a huge community of over 300k members. These days they're one of the biggest websites offering daily design deals.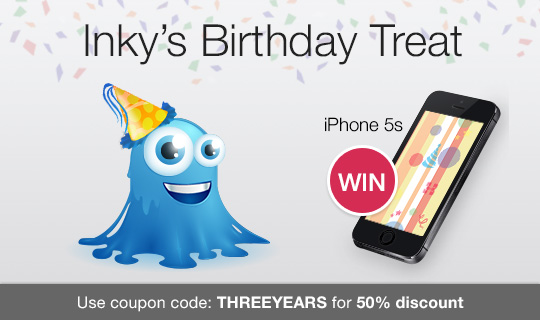 InkyDeals is the place to go if you want to buy premium resources at unbeatable prices, whether you're a photographer, graphic or web designer, developer, or business owner looking to improve yourself and your work.
A Big Cheers to Inky's 3rd Anniversary
We're celebrating Inky's birthday and so are other 300,000 design enthusiasts that joined them in the last 3 years. They compiled a huge design deal Inky's Colossal Birthday Bundle of $31,088 worth Premium Royalty-Free Resources for only $99. Don't miss a chance to buy thousands of premium design resources which were created by professional designers over the lifetime of the community!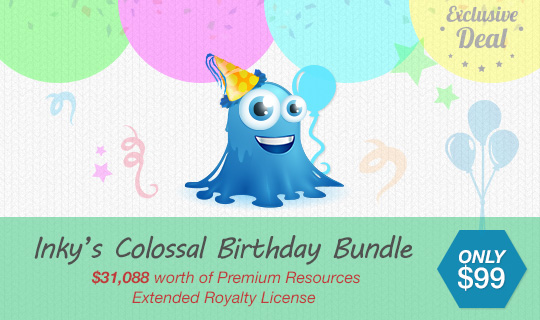 Within Inky's Birthday Bundle you'll get:
845 Premium Vector Packs worth $11,470
2,425 Vector Illustrations worth $9,700
142 Brushes Packs worth $1,611
153 Photoshop & Illustrator Addons worth 1,636
120 T-shirt Designs worth $1,800
146 High-Res Texture Packs worth $1,879
17 Premium Fonts worth $125
21 Premium Tutorials worth $272
118 Web & Print Resources Packs worth $1,325
Another 177 fonts courtesy of MacAppware worth $70
And 1,533 Premium Vectors from Designious worth $1,200
And because they're getting bigger, so are their discounts! Now it's the perfect time to get your favorite deals at 50% off by using coupon code THREEYEARS at checkout, until 31st October.
Inky's Star Deals
We took the liberty of showing top 2 more deals they have, so pick your ideal product and get it now:
The Super Premium Vintage Typography Kit for Only $49
In this design bundle you'll find premium vector stamps templates, gorgeous hand-drawn fonts, frames and borders, super high-resolution textures, Photoshop and vector brushes, and incredible Photoshop Actions.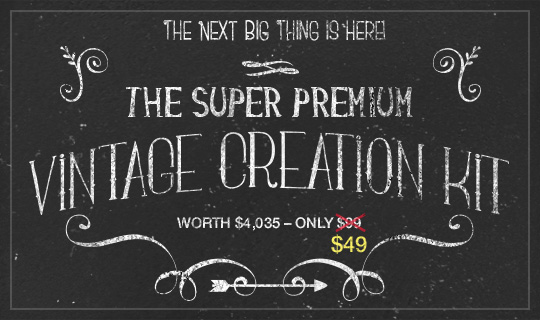 Get 301 Professional Photoshop & Illustrator Styles for Just $19
For only $19 you'll get 301 professional Photoshop and Illustrator text styles to use for your photography designs.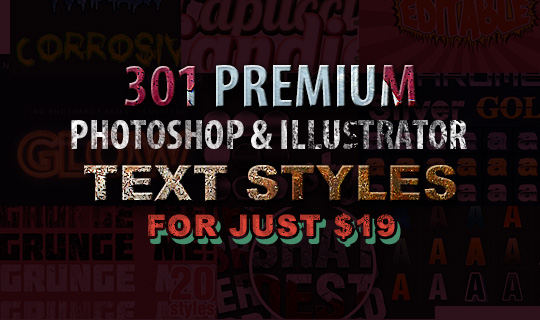 Bonus: Win an iPhone 5S!
For any purchase you make until 31st October, you automatically enter the contest and get a chance to win an iPhone 5S. The winner will be chosen through random.org and announced through email on 31st October.