New Flash Page Flip Gallery: Simplicity and Style
Hello everyone,
Today we've come to you with a really good news. For all fans of web designs with page flipping effect we have prepared a new impressive piece of Flash. If you are a photographer, artist or designer and is looking for something special for your future web project, this gift is for you:) So, please meet a fresh Flash flip book gallery that, like all works of our designers, impresses us with a great design and showy yet stylish interactivity.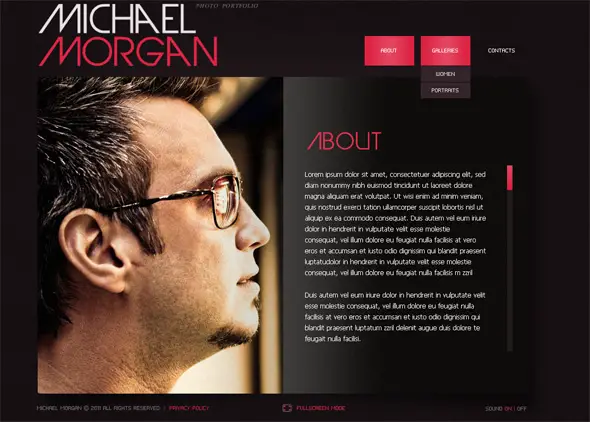 The designers have tried to make the template as neat as possible. Stylish dark background, clear menu, unusual font and simplicity in use makes the solution appropriate for many portfolios. Also, it can be used for many other web projects for which the page flip effect works fine.
Like all our Flash flip books, the template is navigated either by dragging pages with a mouse or with the website menu that, by the way, may contain as many sections and sub-sections as the owner wants.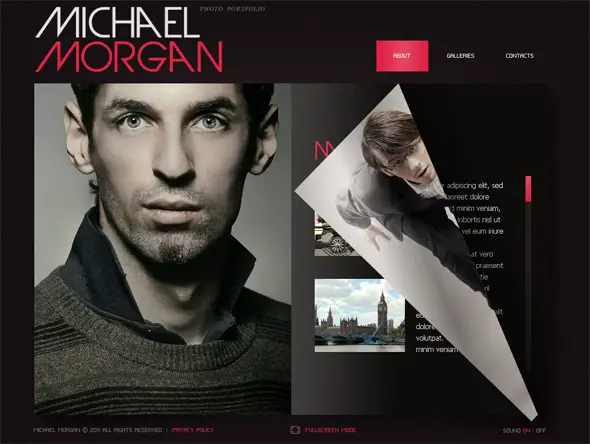 As you know, all our templates are created on the basis of the powerful Moto Flash CMS that is still the most feature rich content management system for Flash today. The system develops rapidly; with each release it becomes more advanced, and all the features released are automatically avaliable with each template created on the basis of Moto Flash CMS.
With the recent update to version 1.5, we have got new tools available within the control panel, new options and overall system improvements.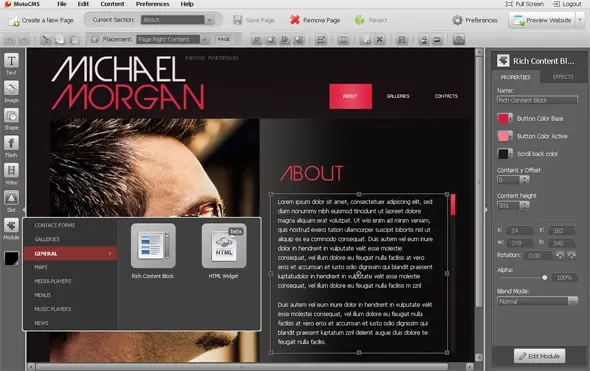 Due to impressive number of modules and slots integrated into the control panel, this page flip design turned out great. Great visually, and wonderful from the functional point of view. Generally, this design is a complete Flash website that you can easily edit by filling with your own content. But if you would wish to add something own and change the layout a bit, it can easily be done with the help of mostly intuitive control panel interface. You can change fonts, add elements, visual effects and logos, make the background red or green, for example, etc. In other words, you can alchemize the template, if necessary.
The flip book control panel contains the GalleryBook widget for modifying the book's text format, buttons' appearance and adding visual effects as well. Due to the advanced Contact Form module (that was significantly improved in the version 1.5), you can change the design of the contact form and make it even more functional and convenient.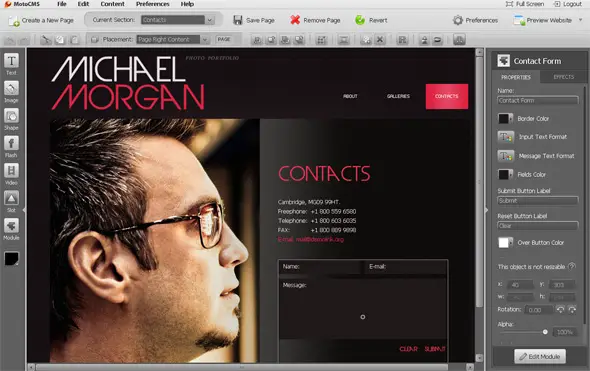 Please take advantage of this Flash Page Flip Book functionality by trying the Control Panel DEMO.